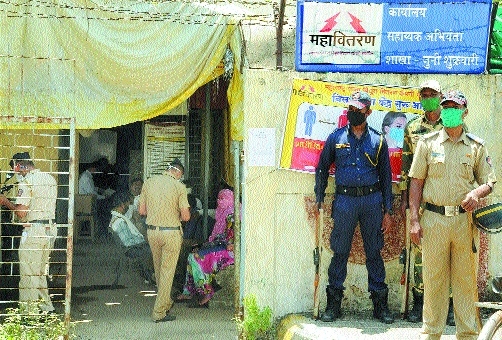 Police bandboast outside the office of MSEDCL in city to prevent surge in crowd and control any untoward incident due to discontent among citizens in aftermath of receipt of high power bills.
(Pic by Satish Raut)
Staff Reporter :
Taking note of discontent among people of Maharashtra after receiving unusually high power bills, Maharashtra Energy Regulatory Commission (MERC) stepped in to clarify that tariff was actually lowered in the multi-year tariff order. In an unusual move, MERC came out with a detailed note to point out that it has in fact lowered the tariff across the board to deflect any criticism.
The note from regulator was perhaps to clear that no way they can be blamed for energy bills that are historically high. Sometimes back, Government functionaries sought to shift the blame at doorstep of regulator after coming under criticism for significantly high power bills. In fact, MERC note showcased the tabulation how the benefit was passed onto consumer by way of lowering the average billing rate. For example in case of MSEDCL in residential category the benefit is calculated in ABR of March and that of April 2020. During March the avg rate per kWh was Rs. 8.03 and in April the same was Rs. 7.66 resulting in -5 per cent difference in residential tariff, for HT-Industrial the benefit was 10 per cent, LT-Industrial 10 per cent, HT-Commercial 15 per cent and LT-Commercial 12 per cent.
Thus across all the categories consumers have benefited due to reduction in tariff. Also from April onwards Fuel Adjustment Charge (FAC) too was not levied thereby entail savings in the bills. In addition, a moratorium on payment of fixed charges of lockdown period were extended to industrial and commercial establishments and even carrying cost on deferred payment were also waived off. The regulator also stipulated that fresh bill to be issued by discoms for energy charges should be limited to 10 per cent of average energy consumption to industrial and commercial in case actual meter reading was not available. The regulator further said respective discoms was given liberty to provide any concessions they may deem fit to their consumers from their reserves, MERC statement read. After going through media reports about confusion, anger among consumers after receipt of first bill after lockdown, MERC said it suo moto sought information from four distribution licensees in State.
The officials of discoms were accepted by regulator on its word and they unanimously contended that average bill was for lower amount and during summer months consumption tends to be on higher side and hence the bills are on higher side. The companies told Commission that they have adjusted the previously paid average bills and further provided credit of consumption units in June bill. Although satisfied with contention of discoms, MERC advised them to set-up dedicated help desk/grievance officer at Sub-Division/Divisional level to hear grievances of consumers and same be responded within a day of their receipt. Further discoms were directed to tighten step-up internal controls to detect abnormal usage and in case any such case crops up then meter reading be rechecked on suo moto basis to rule out any discrepancy. Installments: MERC had also advised discoms to provide facility of EMIs to consumers in case the average bill for the period of March to May is more than double. Such consumers shall be provided option to pay the bill in three installments. Though Maharashtra Energy Minister hinted about the same, MSEDCL is yet to issue a notification about the same thereby leaving consumers in lurch. Further, MERC said it is keeping a vigil on the billing issues as it does not want any consumer to be put to any inconvenience by the discom.
'Power supply cannot be snapped, if bills are not paid' MERC in an important instruction to the four discom companies directed that power supply cannot be disconnected in case of non-payment of bill if a consumer has raised objection and the grievance is pending for resolution. Till the objections are redressed, including exercising choice of making payment of bills in three EMIs, the disconnection of connection cannot be undertaken. Beyond that if consumers still feel discoms have not resolved their grievances they have the option to approach Internal Grievance Redressal Cell (IGRC), Consumer Grievance Redressal Cell (CGRC) and Electricity Ombudsman to seek statutory adjudication.