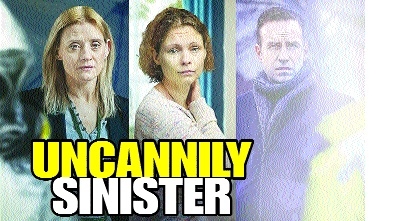 By Aasawari Shenolikar :
"Is Salisbury safe?" is a question put forth by one of the residents worried about the situation that has developed in the city of Salisbury. The Public Health officials and other authorities dealing with a deadly outbreak that is responsible for the critical condition of two citizens, were able to restrict the spread because of a lightning fast action taken by them. The lockdown, the restriction of movement, the officials trying to trace the origin of the nerve agent, which by then they have identified, the PPE suits, the ventilators in the hospital - it's déjà vu. At this point, in the present day scenario - each one of us wants to know "Is the world safe?" Based on true facts, The Salisbury Poisonings, a four-part web series on Netflix, directed by Saul Dibb is about events that took place in March 2018 in Salisbury UK, a picturesque city famous for its cathedral. The Salisbury Poisonings created quite a stir when it took place for the nerve agent Novichok was directed towards two Russians - Sergei Skirpal and his daughter Yulia.
As the drama unfolds, with many scenes reminiscent of the present day crisis, The Salisbury Poisonings uncannily draws a parallel between what had happened two years ago and the pandemic today that has literally stopped the world in its track. The sinister feeling slowly creeps up on the viewer when you watch how Tracy Daszkiewicz (Anne-Marie Duff), Wiltshire's Director of Public Health, in a swift move, much to the chagrin of others, declares a lockdown. Her foresight is rewarded when there is no community spread of Novichok. Detective Nick Bailey (Rafe Spall), the first responder, is the third person to be infected, but because of immediate medical attention, he pulls through. Just as things return to normal, a second wave hits with Dawn Sturgess (MyAnna Buring) and her partner getting infected. Dawn is the sole fatality of Novichok.
The sanitiser tunnels, the PPE suits, the gloves, the barricades, closing down of public spaces with a huge adverse impact on social and economic milieu - everything about this is quietly spine-chilling. Sanitise your hands, your clothes, your mobiles - because we are going through a similar phase - the feeling is truly nerve-racking. In the initial phases, the enemy is invisible, the source is not known, the healthcare professionals are unaware of the mode of spread, the medical fraternity is flummoxed as there appears to be no cure and when the nerve agent is zeroed on in, it's a frightening moment for even a drop of the lethal agent has the power to infect thousands and kill hundreds.
This is one series where the focus is not on the actors, but on the content. Of course, a little more detailing on why the Russian Sergei Skirpal, a former spy was targeted, and a little more stress on how the agent was identified and nullified could have added more gravitas to the engrossing series. As Nick Bailey, at one point of time, after being released from the hospital says, "I realise normal life for me will never be the same again", we affirm, in today's scenario, truer words were never uttered. Watch it, even if you've read about it in the papers or the web, for it engages you completely. Watch it: Netflix The Hitavada Rating :