Union Tourism and Culture Minister Patel plants saplings on hills of Sainik Society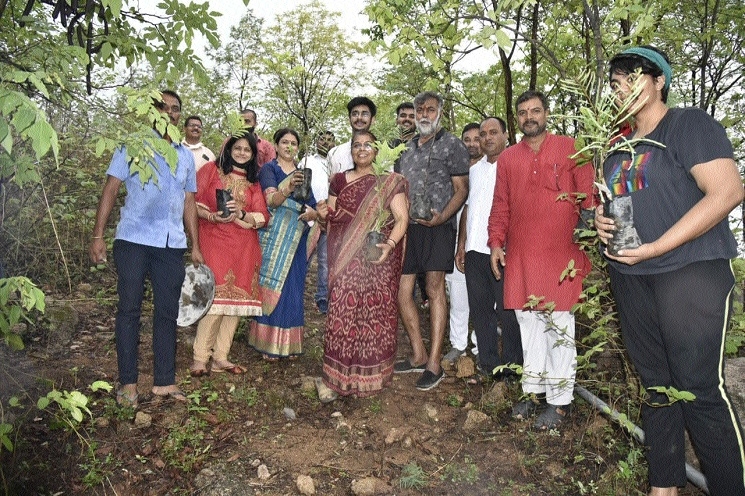 Union Minister Prahlad Patel, along with residents planting saplings on Sainik Society hills.
Staff Reporter :
Union Tourism and Culture Minister Prahlad Patel planted saplings on the hills of Sainik Society under Vraksharopan Sankalp Parva, on Sunday. It may be noted that by giving a nationwide form to Prime Minister Narendra Modi's call to save environment by planting saplings, the Ministry of Culture and Tourism has started a massive plantation drive across the country from June 28 to July 12. On the first day of the campaign, Union Minister Patel planted saplings on his birthday. Speaking on the occasion, he said it is the responsibility of every citizen to protect nature.
Plantation will definitely help in keeping the environment pure. Patel urges everyone to ensure contribution by participating in the plantation campaign. He said the Ministry of Culture is giving priority to planting five trees which have been outlined by the Prime Minister. These trees truly represent the herbal heritage of our country. The trees are Banyan, Amla, Peepal, Ashok and Bel.
He said if saplings of these trees are not available then people can plant any other plant of their choice. Amongst the senior leaders also present on the occasion were former ministers Ajay Vishnoi, Ashish Dubey, former Mayor Prabhat Sahu, Swati Godbole, Mayor, Alok Jain, Shiv Patel and others.