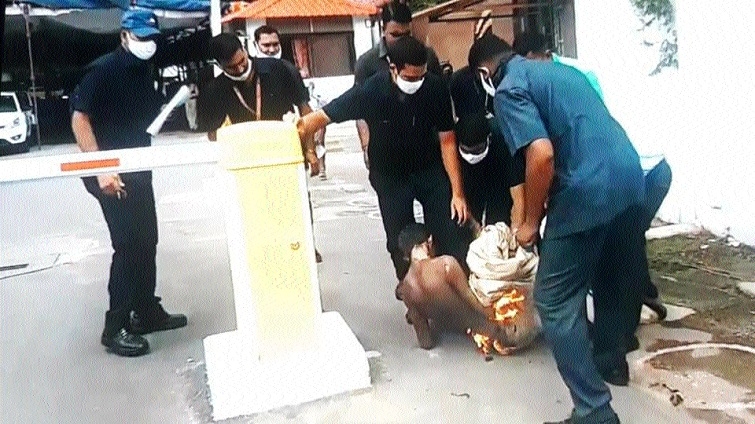 Security personnel deployed at CM House rescuing the youth, who set himself on fire.
Staff Reporter ;
RAIPUR,
A 28-year-old unemployed youth on Monday attempted to commit suicide by setting himself on fire outside Chief Minister Bhupesh Baghel's official residence at Civil Lines in Raipur. "A youth identified as Hardev Sinha (27), hailing from Dhamtari district, attempted to immolate himself outside CM House this afternoon. The 28-year-old youth set himself on fire by pouring petrol on him," said Additional Superintendent of Police (City) Pankaj Chandra. ASP Chandra further informed that as per preliminary reports, the youth has suffered around 55 percent burn injuries and undergoing treatment in Dr B R Ambedkar Memorial Hospital, Raipur.
"In his statement to Tehsildar, the youth said that he was a writer and disappointed over his inability of not making film. Besides, the youth's father stated that Hardev is psychologically unstable," stated ASP Chandra, adding that further probe in the case is underway. ASP further said that the distressed youth reached outside CM House this afternoon and set him on fire by pouring petrol over his body. Before, the youth was rescued by the security personnel deployed at the CM House, he has suffered around 55 percent burn injuries.
"The person from Dhamtari district, who tried to commit suicide by setting himself ablaze in civil lines area of capital city Raipur today afternoon, sustained burn injuries and is undergoing treatment in a hospital. Chief Minister said that no one should take such extreme step out of emotional overwhelm," a government statement said. As per the statement, the state government has made arrangements to provide employment across the state, in this period of corona crisis. Chief Minister has prayed for speedy health recovery of Hardev Sinha. According to the information received from family of the person, 27-year-old Hardev Sinha of village Telinasatti of Dhamtari district has been mentally ill for last 2 years. "Sub-Divisional Magistrate Dhamtari informed in the context that Hardev lives with his parents and three brothers. His wife works as labourer and he has two daughters of 6 years and 3 years of age.
Hardev's younger brother has also been mentally ill, because of which he is unmarried and stays at home. Elder brother works at a garage and his father also stays at home. Hardev Sinha owns two-acres of agricultural land in his village and has studied upto 9th. Hardev Sinha has job card under MNREGA and last month, he was given work of 11 days. His family members got 21 days of employment," said the statement. Hardev Sinha had also applied for permission to make youtube movie in gram panchayat Telinsatti, added the statement.