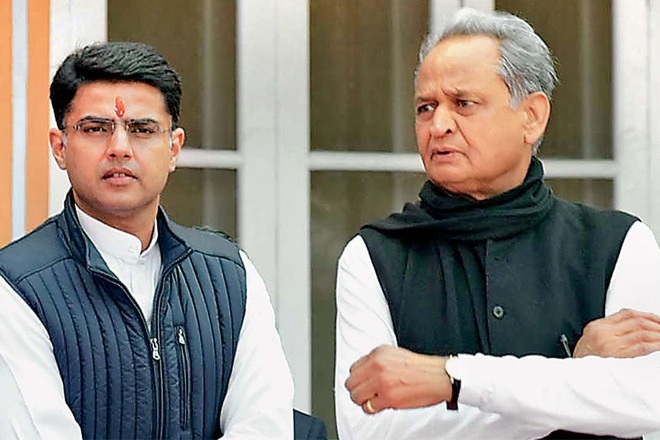 Sachin Pilot and Ashok Gehlot
JAIPUR/NEW DELHI :
Gehlot Govt in minority: Sachin Pilot According to sources, the Deputy Chief Minister Sachin Pilot has the support of nearly 30 Congress MLAs along with many Independent legislators. Pilot is camping in Delhi to meet Sonia Gandhi
THE crisis in Rajasthan Congress has deepened with State Chief Minister Ashok Gehlot and his Deputy Sachin Pilot at loggerheads. While Gehlot is blaming BJP for trying to destabilise the State Government by poaching MLAs, Pilot is camping in Delhi to speak to the party leadership regarding the political turmoil in the State. According to sources, Pilot has sought an appointment with party's interim President Sonia Gandhi but time for the meeting has not yet been given by her. As of now, many MLAs, who are believed to be in the Pilot camp, are also in Delhi to meet the party leadership.
According to sources, the Deputy Chief Minister has the support of nearly 30 Congress MLAs along with many Independent legislators. In an official statement, Pilot said, "Chief Minister Ashok Gehlot Government is in minority after over 30 Congress and some independent MLAs have pledged support to me." Pilot also had an elaborate discussion with Jyotiraditya Scindia, his former party colleague and friend, who recently jumped ship to the BJP after being sidelined in Madhya Pradesh by former Chief Minister Kamal Nath. It is important to note that the controversy broke out in Rajasthan after Special Operation Group (SOG) sent a notice to Sachin Pilot to record his statement in the case registered by SOG in the alleged poaching of Congress MLAs in the State. The clash between Gehlot and Pilot is also over the post of PCC Chief as Gehlot camp wants that 'One Leader One Post' formula to be implemented in Rajasthan.
Currently, Sachin Pilot is heading the PCC besides holding the Deputy CM post. Amid a power tussle in the Rajasthan Government, sources close to Sachin Pilot on Sunday said the letter asking the Deputy CM to appear for questioning in a probe into alleged attempts to destabilise his own Government has "crossed all limits" and made it "untenable" for those MLAs supporting him to work under Chief Minister Ashok Gehlot. "Never before has a sitting State party President and Deputy CM has been served with such a letter", a source said. The notices to Gehlot and Pilot were issued after the SOG on Friday registered an FIR against two people, who have been detained, for their alleged involvement in horse trading of Congress MLAs for toppling the State Government.
Sources close to Sachin Pilot have informed that the young leader is upset with the notice issued to him. He believes it is aimed to record his phone calls and keep him under surveillance. Many of Pilot's supporters feel indignation and told Pilot that they cannot work with Gehlot. CM Ashok Gehlot has summoned Sunday night a meeting of all party MLAs that his deputy Sachin Pilot appeared set to skip. Silence at Sonia's residence: EVEN as the Congress grappled with an intra-party crisis to save its Government in Rajasthan, silence loomed over party interim President Sonia Gandhi's residence at 10 Janpath on Sunday as no senior Congress leader had arrived to discuss the matter.