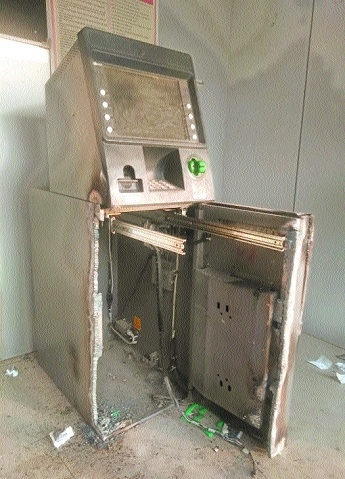 The ATM broke open by thieves using gas cutter at Dhapewada village in Kalmeshwar tehsil.
(Pic by Satish Nande)
Kalmeshwar Correspondent ;
The police suspect involvement of an inter-State gang in the crime
Unidentified thieves decamped with Rs 10 lakh cash after breaking open an unguarded Automated Teller Machine (ATM) of Bank of India (BOI) using gas cutter at Dhapewada village in Kalmeshwar tehsil, said Saoner Police. The police are suspecting involvement of around two-three people in the crime. Police Inspector Ashok Kol of Saoner Police Station said that they received an information about the theft in ATM on Sunday morning.
The crime took place in intervening night of Saturday and Sunday. The thieves came at ATM and broke it open by using gas cutter. As there was no guard at the ATM kiosk at the time of the incident, it was easy for the thieves to commit the crime. The thieves walked away with Rs 10 lakh cash from the ATM, the police said. The police have seized Digital Video Recorder (DVR) from the spot to ascertain the sequence of events and identify the accused by using CCTV footage.
A large number of villagers gathered at the spot after the news of theft in the ATM spread in the area. The police are suspecting involvement of inter-State gangs as two such cases were also recently reported in neighbouring Bhandara and Wardha districts. In Bhandara ATM theft case, the thieves stole Rs 10 lakh. An offence under Sections 457 and 380 of Indian Penal Code was registered by Saoner Police.
A team of Local Crime Branch (LCB) of Rural Police also visited the crime spot. It may be mentioned here that a gang of ATM thieves was busted by Rural Police in March this year. The gang had committed ATM robberies in Nagpur Rural, City and Wardha district.