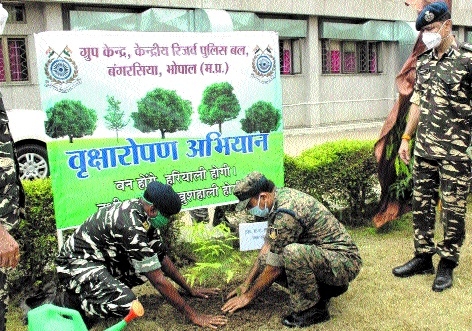 CAPF officials undertaking plantation drive at centre in Bangrasia in State capital on Sunday.
Staff Reporter :
As a part of nationwide plantation drive of Central Armed Police Forces (CAPF), Group Centre of CRPF located at Bangrasia village has taken up multiple initiatives to carry out dense plantation in the nearby areas. On Sunday, Union Home Minister Amit Shah participated in a mega plantation drive of Central Armed Police Forces (CAPFs) held at CRPF Officers' Training Academy at Kaderpur, Gurugram. To mark this day, all the CAPFs were given special targets to carry out plantation drive across the country.
Earlier, CAPFs were directed by Government to undertake countrywide massive plantation drives during this monsoon season. In total, more than 1.30 crore saplings of indigenous varieties, having long life and good health benefits are to be planted on the land available with the forces and its proximity. The Group Centre, CRPF, Bhopal, carried out major plantation drive on Sunday and planted 1000 saplings of indigenous varieties in the surrounding areas.
R P Pandey, Inspector General, MP Sector, CRPF, and Sushma Pandey, Head Sector CWA (CRPF Family Welfare Association), graced the occasion as chief guests. In his welcome address, DIG Ajay Kumar Singh apprised that Group Centre Bhopal has been working enthusiastically to make this campaign a grand success. He added that Group Centre Bhopal has been entrusted with the responsibility to plant 10,000 sapling under this campaign.