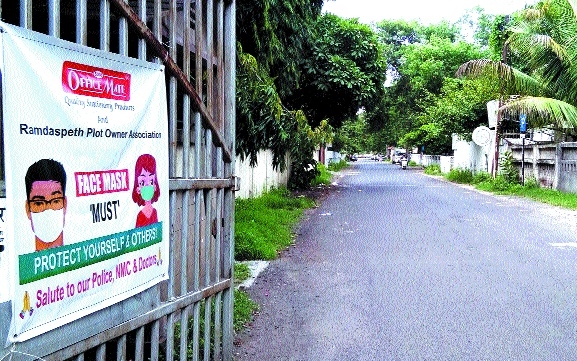 Residents of Ramdaspeth have imposed strict rules for people entering locality to stop the spread of COVID-19. (Pic by Anil Futane)
Principal Correspondent :
The civic body is seriously considering imposing stricter norms of lockdown if people continue to violate Covid-19 rules like not wearing masks, not following social distancing etc. For the last few days, the speculations about implementation of stricter lockdown in Nagpur by Nagpur Municipal Corporation (NMC) were doing rounds. After easing of lockdown on June 1, the city started experiencing spurt in coronavirus cases.
One of the reasons was people's behaviour who did not follow Covid-19 rules. There is a rampant violation of social distancing norms, not wearing mask, spitting everywhere. The rules of functioning of shops, too, are being broken. For example, the odd and even days are allotted to shops but at most of the places owners are hardly following the same scrupulously. With constant rise in number of coronavirus positive cases, traders, smaller shop vendors, people in general have started talking of possible strict lockdown. In fact throughout the day on Wednesday there was a strong rumour that civic body had imposed strict norms in city.
But that remained rumour only at least for Tuesday. When 'The Hitavada' contacted Tukaram Mundhe, Municipal Commissioner, about the reports of possible lockdown in Nagpur, he said, "We have not decided yet. I have appealed people to follow the rules. But, we have observed after the easing of lockdown, people have become a bit liberal. If this continues then we have no choice than to go for stringent lockdown." Mayor Sandip Joshi, too, supported the possible action. He said, "People may not be doing deliberately as it is the part of habit. Coronavirus is new to everybody so naturally public is not abiding by the rules. Bringing strict norms of lockdown is a welcome decision.
I only feel the administration should take all the stakeholders into confidence. While fighting Covid-19 the united efforts will be more effective." In last 24 hours, Nagpur registered 148 coronavirus positive cases and two deaths too. On Tuesday, the city for the first time witnessed such a huge number. It changed the equation of cumulative number too. The cumulative number was 2,195 but with the addition of huge spike of 148, jumped to 2,300 mark. The spurt in cases may compel administration to come with stricter lockdown which was eased from June 1.