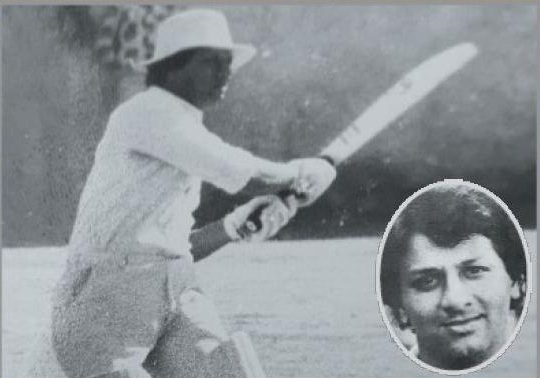 Suhas Phadkar (also inset) played strokes all round the partk to notch his third Ranji Trophy hundred.
By Anupam Soni :
Visitors wasted time and bowled negative line on final day
IT HAD been over three years that India lifted their maiden World Cup (then a sixty-over affair) but the scores in those days used to be gathered at about four runs per over. When the One-Day International was recalibrated to 50-overs a side match, the teams would generally score around 200 and that was considered as a competitive one in those days.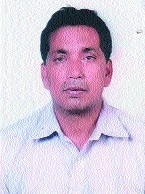 Vidarbha seamer Bharat Thakre picked a five-wkt haul in 2nd innings.
In an interesting game, Vidarbha found themselves chasing 159 runs in 35 overs (around 4.5 runs per over) for an outright win, but due to lack of exposure to one-day format, the team ended up scoring 98-3 in 33 overs. Vidarbha were playing their Ranji Trophy Central Zone League match against a strong Uttar Pradesh at VCA Civil Lines ground in November 1986. Vidarbha skipper Sunil Hedaoo won the toss and invited the visitors to take first strike. On opening day of the 3-day match, the quartet of Vidarbha pacers — Satish Takle (3-31), Sanjay Jugade (3-57), Vikas Gawate (2-23) and Bharat Thakre (2-23), exploited the conditions to pack the opponents for a mere 183 in 52.5 overs. Stumper Praveen Hinganikar, too, played a vital part catching four batsmen. For Uttar Pradesh, Rahul Sapru (30) was the top scorer while skipper Rajinder Singh Hans (25) and Kishore Kumar Sharma (9*) added 39 runs for the eighth-wicket partnership turned out to be highest of the innings.
UP's Kishore Kumar Sharma picked a career best 8-120.
"The VCA track at Civil Lines was always a good one. In the first innings our bowlers got movement and they bowled good spells with new ball," said Suhas Phadkar who later hit a ton. Rudra Pratap Singh Senior gave UP an early boost removing Hinganikar in Vidarbha's first innings. Opener Umakant Phate (29) and Madan Kaore (26) stitched a stand. But after the partnership was broken, two players, one from either side, fought for the limelight. Vidarbha middle-order batsman Suhas Phadkar 128 (15x4, 1x6) played a gem of an innings to complete his third Ranji Trophy hundred while UP right-arm seamer KK Sharma went on to pick eight wickets.
The figures of 32.5-8-120-8 remained his best in 32-match First-Class career. "Though we took a very handy lead in the first innings, KK Sharma bowled very well for his eight wickets. He was not very tall but had a strong built. Actually, he was knocking at India team door with his consistent performance in domestic cricket," said Phadkar praising the Uttar Pradesh bowler. Phadkar's knock was important in the context that none of the batsmen had scored more than 30 in the first two innings. Vidarbha were finally all out for 309 in 91.5 overs gaining a comfortable 126 runs lead.
To Vidarbha batsmen's credit, they did not allow India offie Gopal Sharma to dictate terms. In fact, the tweaker went wicketless in the game. Taking a cue from Phadkar and a slightly dried up turf, UP opener Sanjay Singh (116) gave the team a good start in the second innings with partner Shashikant Khandkar contributing 35. After Khandkar's dismissal, cleaned up by Thakre, UP wicketkeeper Sunil Chaturvedi (36) continued with the good work as UP ended Day Two at 99-1. On the third morning, the pair took the team score to 139 wiping off the lead. Singh batted well from one end but with Thakre (5-96) and left-arm spinner Hemant Wasu (3-87) bowling well in tandem, UP lost last nine wickets for the addition of 141 runs. This was Thakre's one of the three five-wicket hauls in First-Class cricket. The hosts were set a target of 159 runs to be scored in 35 overs. Phate (41*) and Hinganikar (14) started off well. But quick departure of Kaore and Raju Pankule, slowed down things.
And even as Phadkar (26*) and Phate tried their best, they could not take the team home. Vidarbha had to be satisfied with the first innings lead. "We decided to go all out for an outright win. We fell short by some sixty runs. We could have scored those runs. We were not used to one-day type innings in those days. The requirement was less than five runs per over and was quite possible," lamented Phadkar. "If the same situation arises in today's time, I am confident most of the teams would easily chase that score. "Once they got a feeling that we were going for runs, they slowed down the proceedings. They knew that I had scored hundred in the first innings and that if I stayed there in the middle we would score the required runs.
"They did not go for wickets but wasted time. UP players used time-pass tactics and also bowled down the leg side. In multi-days format, it was not called wide and they got away with it. Players feigned injury and they also employed fast bowlers from both ends who would come to the bowling mark from fine leg. "With the likes of Gopal, Hans, KK, SP Singh and RP Singh, UP were the best side in Central Zone and a win would have been very satisfying," Phadkar concluded.
Match: Vidarbha vs Uttar Pradesh Ranji Trophy Central Zone League match played at VCA Civil Lines ground in November 1986 (3-day match). Result: Vidarbha took first innings lead in the drawn encounter. Highlights
Uttar Pradesh seamer Kishore Kumar Sharma (8-120) picked eight wickets in first innings. The figures remained best in his 32-match First-Class career. Sharma later played for Railways also. n Bharat Bapurao Thakre (Born July 12, 1963, Wardha), who played 16 First-Clas matches for Vidarbha, passed away on June 19, 2017.
UTTAR PRADESH 1ST INNINGS: S Khandkar c Hingnikar b Takle 8, S Chaturvedi lbw b Gawate 14, SP Singh c Hedaoo b Gawate 0, R Sapru c Hingnikar b Takle 30, VS Yadav c Hingnikar b Jugade 17, S Anand c Hedaoo b Jugade 2, G Sharma c Hingnikar b Takle 21, RP Singh b Jugade 8, RS Hans b Thakre 25, K Sharma Not Out 9, M Ansari b Thakre 0. Extras: (lb 7, nb 2) 9. Bonus Runs: 40. TOTAL: (All out, 52.5 overs) 183. FoW: 1-12, 2-17, 3-34, 4-55, 5-63, 6-91, 7-104, 8-104, 9-143. Bowling: Gawate 13-3-23-2, Takle 15-6-31-3, Thakre 8.5-1-23-2, Jugade 15-5-57-3, Pankule 1-0-2-0. VIDARBHA 1ST INNINGS: P Hingnikar c K Sharma b RP Singh 5, U Phate c Sapru b Hans 29, M Kaore lbw b K Sharma 26, R Pankule c Chaturvedi b K Sharma 5, S Phadkar c Chaturvedi b K Sharma 128, S Hedaoo lbw b K Sharma 22, V Gawate c Khandkar b K Sharma 21, S Takle c Chaturvedi b K Sharma 4, S Jugade b K Sharma 22, HR Wasu Not Out 19, B Thakre b K Sharma 0. Extras: (b 5, lb 8, w 6, nb 1) 20. Bonus Runs: 8. TOTAL: (All out, 91.5 overs) 309. FoW: 1-6, 2-39, 3-54, 4-126, 5-207, 6-247, 7-247, 8-272, 9-301. Bowling: RP Singh 22-7-66-1, K Sharma 32.5-8-120-8, G Sharma 17-2-44-0, Hans 16-3-42-1, Ansari 4-0-16-0. UTTAR PRADESH 2ND INNINGS: S Khandkar b Thakre 35, SP Singh c&b Wasu 116, S Chaturvedi c Pankule b Wasu 36, R Sapru b Gawate 0, V Yadav lbw b Thakre 20, S Anand c Hingnikar b Thakre 20, G Sharma c Hingnikar b Wasu 1, RP Singh lbw b Thakre 14, R Hans b Thakre 1, K Sharma Not Out 27, M Ansari run out 2. Extras: (b 1, lb 1, nb 6) 8. Bonus Runs: 4. TOTAL: (All out, 79 overs) 284. FoW: 1-53, 2-139, 3-140, 4-178, 5-206, 6-211, 7-248, 8-250, 9-251. Bowling: Gawate 20-2-72-1, Takle 4-1-13-0, Thakre 25-3-96-5, Pankule 2-0-10-0, Wasu 28-5-87-3. VIDARBHA 2ND INNINGS (Target 159 runs): P Hingnikar c SP Singh b K Sharma 14, U Phate Not Out 41, M Kaore b Hans 2, R Pankule run out 6, S Phadkar Not Out 26. Extras: (b 1) 1. Bonus Runs: 8. TOTAL: (3 wickets, 33 overs) 98. FoW: 1-15, 2-32, 3-34. Bowling: RP Singh 10-1-30-0, K Sharma 8-0-17-1, G Sharma 3-1-12-0, Hans 6-4-3-1, Ansari 3-0-15-0, Khandkar 3-0-12-0.
n