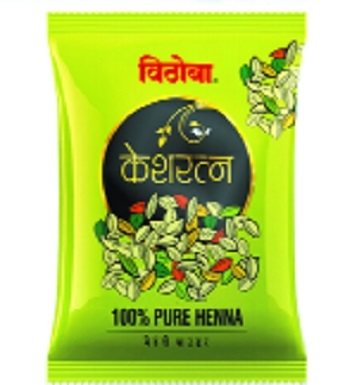 Business Bureau :
Appealing 'Jad Se Judo', Vithoba Ayurvedic, which brings more than one great Ayurvedic product to the attention of consumers, has brought Mehndi powder named as Vithoba Kesharatna, which has the motto of beautiful, healthy and shiny hair. In times of lock-down and unlock, online shopping is a priority for consumers.
Against this backdrop, Vithoba Kesharatna Mehndi is also in great demand online. Expensive and chemical products in the name of mehndi for hair dyeing and conditioning are widely available in the market at present. But, Vithoba Ayurvedic's Kesharatna Mehndi Powder is completely natural and that is why after using this product, the customers have given 100 marks out of 100 to this product, sealing their choice. Many people think that mehndi is used to colour hair. But, Mehndi is beneficial for hair nutrition, conditioning, hair loss and its overall health.
In addition, mehndi is also beneficial in maintaining the pH level of hair. Vithoba Kesharatna Mehndi is a product made keeping in mind these qualities of genuine and pure Mehndi. Other products of Vithoba Ayurveda like toothpaste and Dantmanjan, washing powder, hand wash and hair oil are also becoming the first choice of the consumers. For more details you can visit www.vithoba.co.in or call toll free number 9260100600.