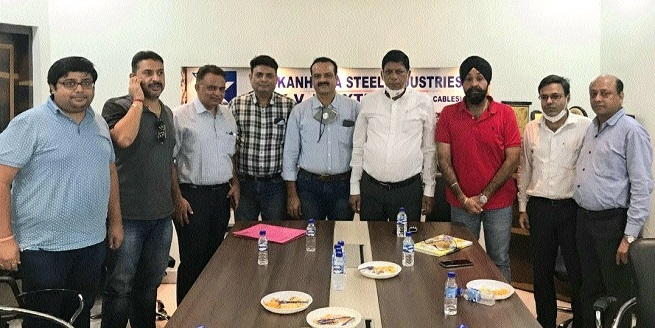 The office-bearers and members of MSME Durg Industries Association.
Staff Reporter :
BHILAI,
Noted industrialist, KK Jha has been unanimously elected as the first president of Micro, Small and Medium Enterprises (MSME) Durg District Industries Association, in the recently organized election here at Industrial Area of Bhilai.
As per the election, the executive body of the association includes Rajeev Deshlahre and Padam Kothari as Vice president, Ankit Mehta as Secretary, Malay Jain as Joint Secretary, Rahul Kathuriya as Treasurer along with omprakash Sharma, Arvinder Singh, Shribhagwan Agarwal and Vipin Trehan as executive members. Speaking on the occasion, President, K K Jha threw light on the objectives of the association and said that the manufactures from all kind of small, micro, medium level industries such as Chemical, Mineral Water, Wire, Cables, Induction Unit, Forging Unit, Food and Beverages Industry, Engineer etc can join the association.
He pointed that the MSME sector is a very important element of country's legacy economic model and it is considered as the job creator and plays a crucial role in providing large-scale employment and industrialisation. He added that making the leasehold land of Industrial Area into freehold property is the primary agenda for the association.