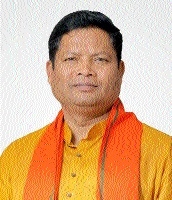 Mahesh Gagda
Staff Reporter ;
RAIPUR,
Bhartiya Janata Party (BJP) had demanded the State Government to recognise the efforts of a forest (beat) guard and to award him for exposing the illegal cutting of trees (bamboo) being undertaken in nexus with senior forest officials. Demanding a thorough enquiry into the incident of illegal felling of bamboo plants, former Forest Minister and senior BJP leader Mahesh Gagda said that it needs to be investigated that under whose indication did the officers accused in the case, were felling bamboo trees in a prohibited forest area. The former Forest Minister while raising the issue where a Forest (Beat) guard initiated action against Forest Ranger, Deputy Ranger and 11 others for illegally felling bamboo trees in Reserve Forest Area at Bankimongra Haldibari under Katghora Forest Division, praised the heroic step taken by the Beat Guard, he asked State Government should award him for his heroic deed.
Terming the incident is a matter of grave concern, demanded from the State Government to carry out an impartial enquiry. Gagda said that it is highly unfortunate that the Forest Department officers, who are entrusted with the responsibility of protecting forests and wildlife, are openly violating the rules and regulations made for the safety and security of forests. It becomes a matter of grave concern that the accused Ranger had alleged that the DFO concerned region is allegedly involved in the fiasco.
Gagda further alleged that from the video of the whole incident which went viral in social media, it came to fore that the area where incident of felling bamboo trees illegally has been reported, there felling of trees is completely prohibited without permission, despite which Ranger and Deputy Ranger along with others have been held responsible for felling bamboo trees illegally. Gagda alleged that State Government makes huge claims about protecting forests and forest dwellers. The Beat Guard caught the fiasco when he saw some labourers engaged in felling trees.
Under the very nose of State Government, its officials are carrying out such illegal activities, and it is the failure of State Government in checking such activities, which is shameful. Gagda said that State Government should find out and make public under whose indication such activities were being undertaken and forest officials indulged in this fiasco should be identified and stern action should be taken against them. If State Government recognises and awards the said Beat Guard, it would encourage such young employees to come forward and expose the misdeeds being carried out in the nexus of senior officials.