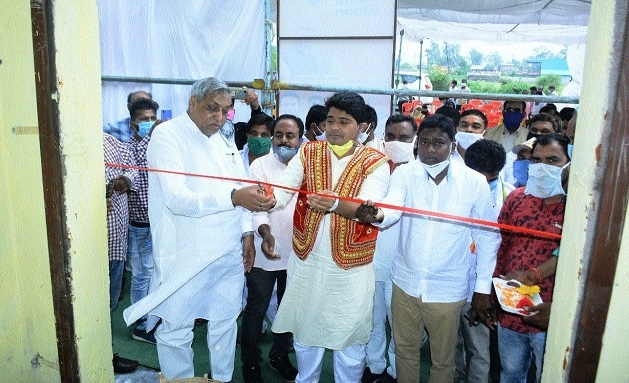 Mayor Aijaz Dhebar and MLA Satyanarayan Sharma inaugurating dung procurement centre.
Staff Reporter :
RAIPUR,
On the auspicious occasion of Hareli, Raipur Municipal Corporation (RMC) commenced Godhan Nyay Yojana with the opening of Dung Procurement Centres at RMC Zone Offices on the direction of Mayor Aijaz Dhebar on Monday.
The dung procured for Rs 2 per kg will be used to prepare Vermicompost fertilizers. On the occasion, MLA Vikas Upadhyay, RDA Chairman Kuldeep Juneja, MLA Satyanarayan Sharma, Mayor Aijaz Dhebar, Speaker Pramod Dubey, MiC member Naagbhusan Rao, Gyanesh Sharma, Ajit Kukreja, Shrikumar Menon, Jitendra Agrawal and Zone Chairpersons and Corporators were present. According to RMC Commissioner Saurabh Kumar, plan for procurement of dung and preparation of Vermicompost has been prepared. Godhan Nyay Yojana has given a new source of income to the cattle farmers.
This will also directly benefit thousands of self-help groups, from which the Government will buy the Vermicompost for Rs 8 per kg. Manufacturing of other products from the procured dung and their distribution will also be done under the scheme. Organic fertilizer will enhance the fertility of farmlands. It will also reduce the population of stray cattle in urban areas and cattle rearers will also take benefits of the proper management and daycare facility at Gothans under Narva, Garuva, Ghurva and Badi scheme.