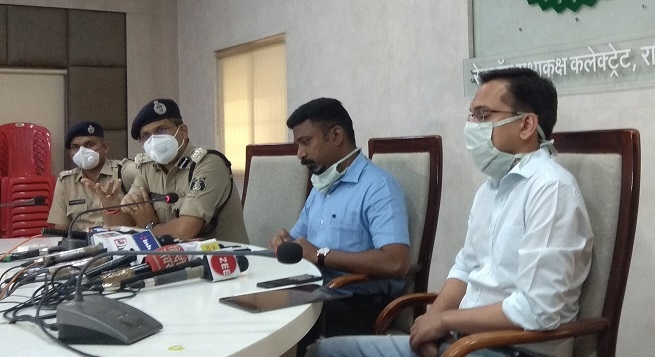 District Collector Dr S Bharathi Dasan briefing media as SSP Ajay Yadav and RMC Commissioner Sourabh Kumar present.
Staff Reporter :
Raipur,
District administration appealed people to stay home if any emergency is not there or else they may face action if found violating rules
Taking a serious note of record spike of Covid-19 positive cases and cluster infection in the limits of Raipur Municipal Corporation (RMC) and Birgaon Municipal Corporation (BRMC) in the last few days, Raipur District Administration has added more teeth to the existing lockdown guidelines to make it severe, so that the chain of corona cases can be broken.
Grocery shops, private offices (apart from offices dealing with emergency services such as newspaper) among other non-essential services would remain closed from July 21 midnight to July 28 midnight, said District Collector Dr S Bharathi Dasan on Monday. The grocery shops found open or selling goods at higher rates than the MRP would be sealed, said the District Collector. Religious and tourism places would also remain closed for the visitors, added the District Collector. All shops, godowns, liquor shops and other business establishments would remain closed from midnight July 21 to midnight July 28. Similarly, all the Government offices would remain closed.
However, the officials and employees of health, revenue, police department and Raipur Municipal Corporation would work in the field, said the District Collector. Petrol pumps in the municipal limits would remain opened till 3 pm while LPG cylinder distribution would remain normal. Vegetable shops, pushcart vendors, milk providers and non-veg shops can give service from 6 am to 10 am. "The recent spike of corona cases in the Raipur and Birgaon municipal limits has posed a big challenge before all of us. We have no other options but to amend the existing Covid-19 guidelines to make it more tough to ensure we are able to break the chain of cases increasing with each passing day," said the District Collector while appealing people to cooperate with the administration's efforts. Auto-rickshaw, private buses and other mode of public transport would also remain off the road. In case of any emergency, people can arrange vehicle for traveling once place to the other.
The permission for inter-district movement has been made manual. Industrial units in RMC and BMC limits will be operation with certain conditions. They industries may either arrange the stay of their workers and staff in the premises or make transportation arrangement. In case of any employee found Corona positive then the company concerned would beat all the medical expenses. Speaking to media persons, Senior Superintendent of Police (SSP) Ajay Yadav said that the police department has added 30 more patrolling vehicles to the existing feet.
There are 22 police station areas coming under the big containment zone consisting Raipur Municipal Corporation limit and Birgaon Municipal Corporation limit. There would 25 checking points within the city limits and 8 on the outer, said the SSP. "We are all set to enforce the law strictly in the RMC and BMC limits. The law would take its own course in case of violation of guidelines, but we would again appeal people to adhere to the prescribed norms," said the SSP.