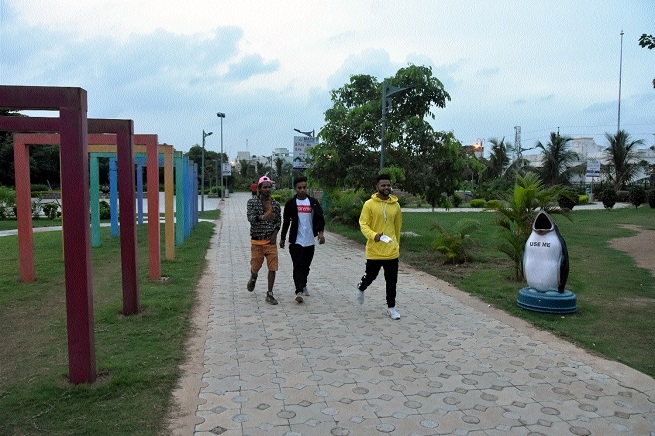 Youths during an evening walk at Katora Talab garden on Tuesday.
Staff Reporter
Raipur
Milk distribution from 6 to 9.30 in the morning followed by 5 to 6.30 in the evening while other emergency services, except medical, will remain open till 3 pm
Raipur District Administration on Tuesday said that people going out for morning/evening walk, jogging and cycling have been appealed to stay home from July 22 to July 28. As the limits of Raipur Municipal Corporation (RMC) and Birgaon Municipal Corporation (BRMC) have been declared as containment zones, the Covid-19 advisories would be strictly implemented by the District Administration and Police Department. For the first time, grocery shops have been asked to down their shutter completely during this period, said the administration officials. People are advised to move out of their houses from 6 am to 10 am in case of emergency. Strict action would be taken against those found roaming aimlessly.
This time, the District Administration would come down heavily on the offenders keeping in view the record spike of cases in the recent days, said ADM Vinit Nandanwar. If there is any medical emergency then he or she would be allowed for movement, he said. As per a fresh order issued by the District Administration on Tuesday, milk vendors are allowed to distribute milk between 6 am and 9.30 am in the morning followed by 5 pm to 6.30 pm in the evening.
Similarly, telecom/internet services/IT related works/petrol/diesel pumps and LPG/CNG gas distribution and storage can be done from 6 am to 3 pm. Meanwhile, District Collector Dr S Bharathi Dasan and SSP Ajay Yadav have appealed the people to cooperate with the administration. "Life is precious and therefore we all should care for it," said District Collector. The entire Raipur Municipal Corporation and Birgaon Municipal Corporation limits have been declared Containment Zone which means law would be strictly enforced this time, said the SSP.