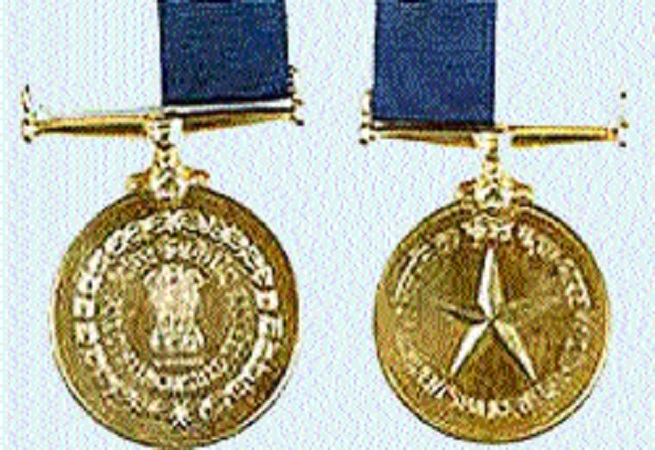 By Sandeep Pradhan :
RAIPUR,
Chhattisgarh Police seem to be short of personnel, who meet the eligibility for President's Police Medal for Distinguished Service, as only one name was reportedly proposed for the prestigious medal. But as per the protocol to recommend the name of personnel the committee required more eligible candidates since the Police Department could not place the names before the committee, the names reportedly could not be forwarded further to Ministry of Home Affairs, Government of India (GoI).
The President's Police Medal is a decoration awarded to members of law enforcement in India. Established on 1 March 1951, the medal was originally called the President's Police and Fire Service Medal and is considered as an achievement of a life time by the police force. Every year State Government forward with recommendation the name of the officers to be decorated with the award. But this year it is reliably learnt that no names have been recommended for the prestigious award presumably owing to an administrative apathy or condone by the department officials. Chhattisgarh Police proposed only one name to the state's Home Department for the prestigious medal.
Citing the number as insufficient, the department did not forward the name to GoI, averred police sources, adding that proposing only one name for the award has raised many a question over the department's working and its failure in getting a recommendation for the award. This is a great loss to Chhattisgarh police that no name has been recommended for the prestigious award while there is no dearth of personnel in the department who qualify for it, stated a senior police official who did not wanted to be quoted. "It's not a question of rejection, the department has just not forwarded the name further to the Government of India for the medal as the number was insufficient," stated a senior officer in the Home Department.
The officer further explained that there is no such criteria pertaining to the number of candidates, but the Government of India orally says that the number of contenders in each category should be extra so that healthy competition should be ensured. By proposing only one name in the category, the PHQ was trying to send a message that the proposed candidate should be given the medal. Meanwhile, Director General of Police (DGP) D M Awasthi when contacted stated that sufficient names in separate categories have been proposed to the Home Department. There were names in other category, but not for this particular category and the Chhattisgarh police lost a chance for this prestigious award because of the lack of administrative acumen, stated a senior bureaucrat.