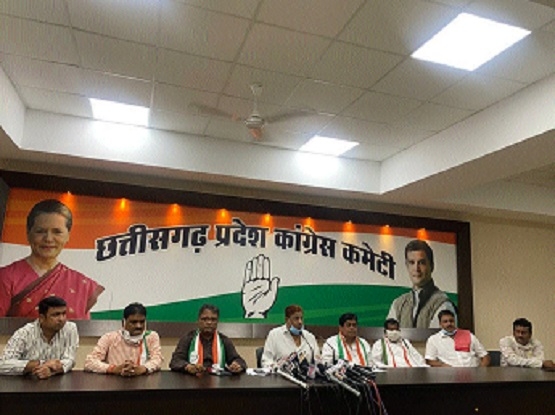 Forest Minister Mohammad Akbar along with Labour Minister
Dr Shiv Kumar Dahariya, Industry Ministry Kawasi Lakhma and
other Congress leaders addressing a press conference at Rajiv Bhawan on Tuesday.
Staff Reporter :
RAIPUR,
Forest Minister and senior Congress leader Mohammad Akbar has on Tuesday made a scathing attack on Bharatiya Janata Party (BJP) alleging that the tribals of State were exploited only during its rule in the last 15 years in State. Talking to mediapersons at Rajiv Bhawan, Forest Minister Akbar said that the BJP leaders are raising baseless allegations against Chhattisgarh Congress Government and they are trying to project the Congress Government as anti-tribal. "When the BJP is out of power, it projects itself as pro-tribal. But when it was in power, the BJP exploited tribals.
It had failed to fulfil its promise to give cow to each tribal family and job to tribal," claimed Akbar. Lands of tribals were given to industrial units during the BJP rule in the state, he added. Akbar countered senior BJP leader Brijmohan Agrawal's statement that 'tribals have no work during the corona crisis' and said that Chhattisgarh Government has procured 31 minor forest produces worth Rs 112 crore. Minor forest produces worth Rs 2.55 crore were procured during the BJP rule in 2018. Minor forest produces have been procured worth Rs 118 crore in the country, in which 76 per cent minor forest produces have been procured from Chhattisgarh only. BJP ruled-Madhya Pradesh has procured minor forest produces worth only Rs 81 lakh while BJP-ruled Gujarat has procured minor forest produces worth Rs 1.73 crore only, he added.
The Forest Minister said that Rs 400 crore has been distributed as tendu leaf motivational amount among the tendu leaf collectors. Tendu leaf is being procured at Rs 4,000 per gunny bag in Chhattisgarh while tendu leaf is being procured at Rs 2500 per gunny bag in Madhya Pradesh, he added. Akbar refuted the BJP's allegations of closing insurance scheme for tendu leaf collectors and said that the Life Insurance Corporation of India (LIC) issued an order to close the Aaam Aadmi Bima Yojana and Pradhan Mantri Jeevan Jyoti Bima Yojana on October 10, 2019. Rs 239 crore motivational amount will be distributed by the state government soon, he added. Labour Department Dr Shiv Kumar Dahariya said that the Labour Department would start new insurance scheme for labourers from unorganised sectors.
It has been proposed to give Rs 1 lakh in case of death and Rs 50,000 in case of disability. One bicycle will be given to each tendu leaf collector. Besides, Rs 10,000 will be given for delivery of two children and scholarship will be given to two children under the scheme, he added. Industry Minister Kawasi Lakhma was also present at the press conference.