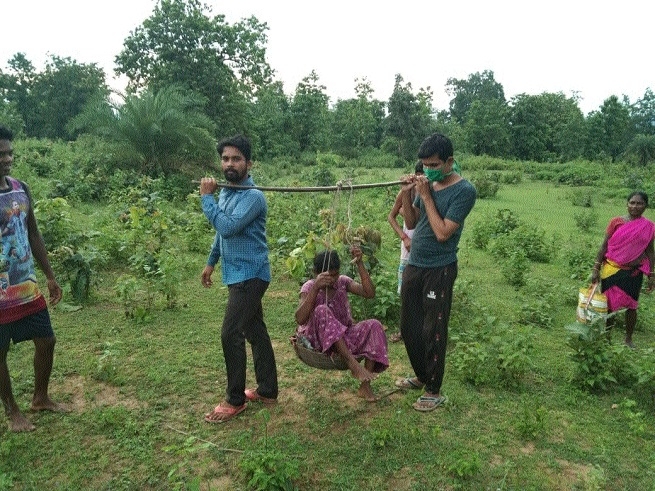 Our Correspondent :
NARAYANPUR,
In many remote areas of Chhattisgarh, pregnant women suffer due to lack of quick response and efficient medical facilities. Often the regions are not reachable due to poorly constructed roads and sparse connectivity. This leads to delayed treatment which can prove to be fatal to both the mother and the child. However, recently two medical staff of Mahatari ambulance service defied all odds to help a pregnant women reach the hospital safely.
Recently, in Hathibeda village in Narayanpur, driver of the Mahatari ambulance along with the Emergency Medical Technician (EMT) carried a pregnant woman using a kaanvar for 2kms as it was not possible for the ambulance to reach the interiors of the village. Belonging to Hathibeda village, Rajvati Salam (22)on Tuesday started labour pain. Seeing her in distress Pavan Devangan, superviser of the Dhodai Social Service Organisation called 102 to inform about Rajvati's condition. On receiving the information, driver Kiran Kumar Sahu and EMT Bhagirathi Kashyap left to reach the location.
After travelling for 13kms they realised that they could not take the ambulance further ahead as the roads were swamped by mud. They walked for 2kms to reach the location and then carried her to the ambulance using a kaanvar. She was admitted to the primary health care centre Dhodai where she gave birth to a girl. Both mother and child were reported to be healthy. Driver Kiran Kumar Sahu is the only driver at the Mahatari ambulance service,Chotedongar.
Since the past 4 months he has been giving his service 24x7. He says that he faces numerous difficulties while driving the ambulance continuously day and night. He informed that he has previously complained about this to his supervisor but no action has been taken yet. Roads of many villages in the Narayanpur district get mud-swamped during rainy season and it becomes difficult even to walk. Despite this the medical technicians and the ambulance drivers are delivering their services day and night.