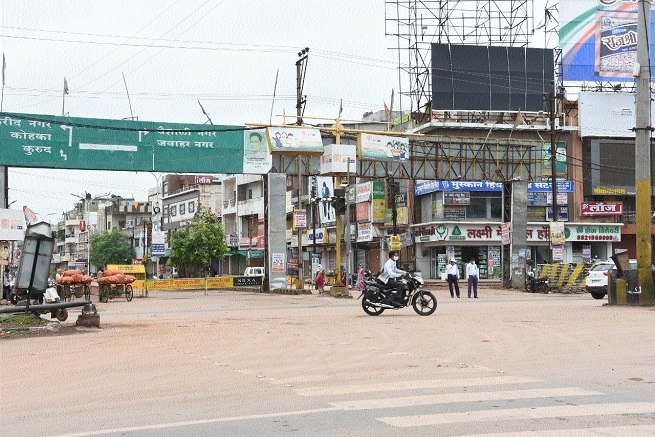 One of the main squares in Durg city being fully blocked by police to ensure complete lockdown.
Staff Reporter
DURG,
The first day of the week-long lockdown with exception only for hospitals and allied health services brought Durg district to a standstill. It was a virtual curfew after 12 noon with deserted roads, bridges and intersections fully blocked by police using barricades and with the exception of police, sanitary workers and health personnel of Durg Municipal Corporation. According to the guideline, strict action was taken against the people roaming around unnecessarily. In this regard the Durg Municipal Corporation (DMC) has collected Rs 4,400 as fine, Bhilai Municipal Corporation (BMC) has collected Rs 1,18,620 as fine and Risali Municipal Corporation collected Rs 5,900 as fine from violators.
The administration also flag marched both in the morning and in the evening. People were informed about the prevention of corona infection. People were urged to stay in their homes and be safe from corona. The Corona Warriors were also instructed to do their work with utmost care. The flag march went to all areas of the civic body where Collector Dr Sarveshwar Narendra Bhure, SP Prashant Thakur and other officials were present.
It is worth mentioning that today the corporation's team was engaged in full time monitoring under the leadership of corporation commissioners and zone commissioners to ensure lockdown. Apart from this, strict action was also taken against the people who were wandering unnecessarily. Collector Dr Sarveshwar Narendra Bhure kept an eye on the situation during lockdown and kept taking feedback. All SDMs were also monitoring in their respective areas. Apart from the city, the situation was also monitored in 17 villages where lockdown has been imposed in the district.
Also, it was ensured that people were getting basic facilities. Along with this, continuous action was also taken on the feedback coming from the control room made for control of Covid-19. The present spell of weeklong lockdown has been implemented in view of continuing surge in coronavirus cases and before that most services and businesses were allowed to function.