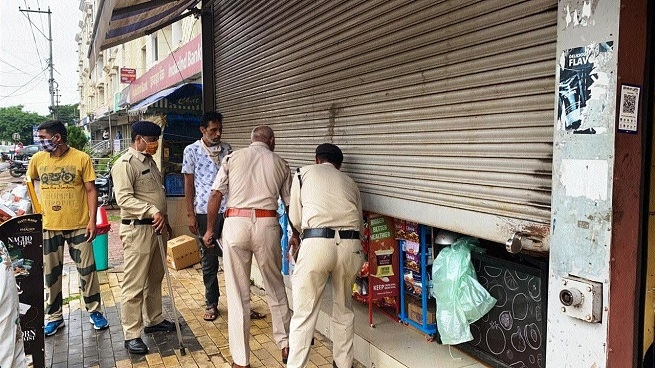 Police and RMC officials sealing a shop that was remained open after fixed time.
Raipur Municipal Corporation (RMC) Zone staffers continued to penalise the shopkeepers who kept their shops opened during the lockdown on Thursday. Zone-2 Team along with police fined Rs 500 on one shopkeeper and Rs 2,100 on 23 persons not wearing masks, Rs 200 on two men not following social distancing rules and Rs 2,300 on 23 for other violations.
Zone-3 officials sealed a shop Imperial Premium Fruits at Shankar Nagar and fined Rs 2,000 at Annapurna Dairy Shop for violation of social distancing rules and Rs 1,000 on a vegetable shopkeeper for lockdown rule infringement whereas Rs 100 on a man for not wearing the mask. Similarly, Zone-4 team collected a total fine of Rs 3,100 along with sealing a shop Maruti Breakers on Canal Linking Road.
Zone-5 teams collected Rs 7,500 as fine. The zone-6 team fined 11 persons Rs 1,120 in two days for not wearing the masks. In the same way, Zone-8 collected a fine of Rs 1,550 from 16 people who were not wearing masks, Rs 1,000 on 10 who didn't maintain social distancing, and one man for spitting on the road and Zone-9 staffers penalized 175 persons Rs 11,600 with the help of police. RMC teams are strictly monitoring the shops and markets for opening and closing time as mandated by District Administration. Markets at Inter-State Bus Terminal, Sheetla Bazaar, Mohababazaar, Lakhe Nagar were timely opened and closed.