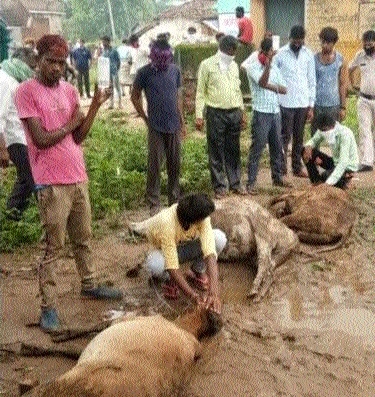 Officials investigating the spot while doctors providing medical treatment to the animals.
Our Correspondent ;
BILASPUR,
ThE ambitious 'Godhan Nyay Yojana' launched by the Government to procure cow dung from the villagers proved fatal for the bovines when about 50 cows were found dead and more than a dozen struggling for life at village Medhepur, located about 30 kms away from the district headquarters in Takhatpur development block on Saturday morning.
Instantly after getting information, a posse of authorities, including Chief Executive Officer (CEO) of Janpad Panchayat Himanshu Gupta, District Panchayat CEO, Tehsildar and Vatenary doctors rushed to the spot. According to primary reports, the animals died due to suffocation. The animals in serious condition are being given medical treatment. According to sources, 100 bovines were kept in a small makeshift gothan without water and proper air.
A few other animals which could not be adjusted inside the gothan were tied outside. Earlier, Sarpanch Pramila Ramkumar Netam instructed the villagers to keep the pets in the old dismantled panchayat bhavan from where the cow manures will be procured. Netam also instructed to keep the animals in makeshift gothans with ample security. She said that the cows were kept inside the gothan following instructions of Secretary Satish Anand.
However Anand refuted the allegations and said that he came to know about the incident from the villagers in the morning and immediately informed the authorities. Janpad Panchayat CEO Himanshu Gupta said that he was informed by the Secretary Satish Anand and the matter was being investigated. He said that there was no instruction to keep the cows in makeshift gothans. Gajendra Singh Chauhan of District Panchayat said that he came to know about the incident in the morning. He also confirmed that there was no instruction to keep the cows in makeshift gothans. He said that the villagers were only asked to keep the animals in groups. He said that the matter will be investigated and the firm action will be taken against the accused.