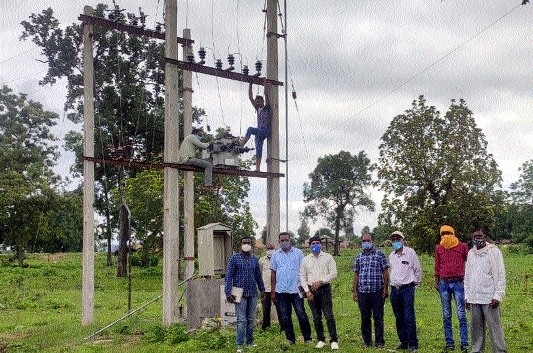 Power supply infrastructure has been developed to supply power in LWE affected areas like Pamed village in Bijapur.
With an objective to connect every household with power, the Chhattisgarh State Power Distribution Company Ltd (CSPDCL) is carrying out works on war footing, particularly in tribal dominated areas. Progressing ahead in this direction CSPDCL has been successful in taking power to the village Pamed in LWE affected Bijapur district.
On July 25, power supply was provided to 70 odd households in the Pamed village. Under adverse circumstances, power was sourced from neighbouring Telangana state and power is being provided to these far-flung villages as power from the state power company is not possible to reach there due to topographical problems.
Chhattisgarh State Power Companies Chairman Subrat Sahoo and CSPDCL MD Mohammad Abdul Kaiser Haq have congratulated the officials and employees engaged in the work of providing power connectivity in these areas. Power connectivity has been given to Pamed and Tongguda panchayats. Power has reached Pamed after 73 years of Independence. Necessary infrastructure is being constructed for providing power connectivity to other neighbouring villages including Gajiguda, Inkal, Mediguda, Yampur, Tongda, Tekler, Jhadpalli and Pedadhardham.