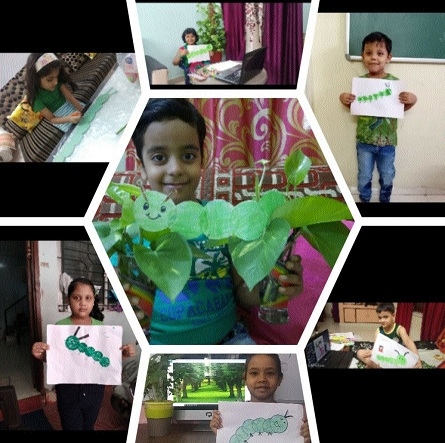 Kids displaying their creativity
during the Green Day celebration conducted by Gyan Ganga Educational Academy.
Staff Reporter :
RAIPUR,
STUDENTS of Gyan Ganga Educational Academy celebrated Green Day with great enthusiasm and zeal in 1st period of online classes for toddlers in their respective homes. The children dressed in green attires were overwhelmed with joy to attend the class as it was their first experience to observe celebration virtually. Teachers conducting the online classes were also dressed in green.
The kids along with parents sat facing the laptop kept different green things like fruits, vegetables, toys, pencils etc to show and speak about. Classes commenced with prayer followed with teachers introducing colour by showing animated power point presentations about importance of green colour of life, renewal energy. Slogans, rhymes and songs about green colour were also presented online. Students danced, laughed and enjoyed with their family, friends and teachers.
Different types of activities were conducted during the online class included Class PP-I kids displaying ladyfinger printing 'Necklace', Class PP-II showcasing ladyfinger printing 'Flower garden' and Class I and II made paper craft 'Caterpillar'. The kids displayed their talent with the help of their parents and teachers. The session ended with a motivational story depicting the importance of plantation and cleanliness with the message 'Save Nature, Save Earth'.