Power supply infrastructure has been developed to supply power in LWE affected areas like Pamed village in Bijapur.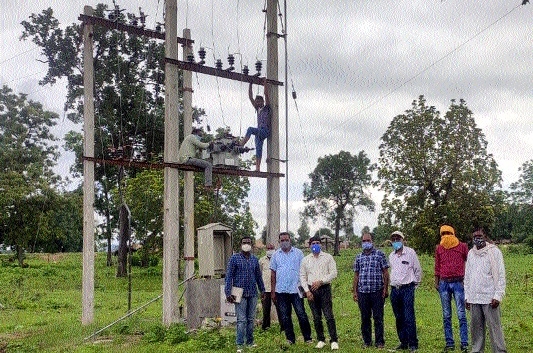 Fre fighters from BSP and BMC pressing water tenders into services for extinguishing fire. (Pic by Bhopal Dewangan)
Staff Reporter :
BHILAI,
Property worth lakhs was gutted after fire broke out at a locked-shop located at a market area in Supela, Bhilai on Saturday noon. After information the fire fighting squads from Home Guard, Fire Brigade Departments of Bhilai Steel Plant (BSP) and Bhilai Municipal Corporation (BMC) reached the troubled location immediately and doused off fire. According to information, at about 12 pm on Saturday, fire broke out at KGN Gas Burner Repairing Shop, located at Laxmi Market in Supela, Bhilai and the flames started reaching high with emission of smoke followed with a powerful explosion.
On information the fire fighters from BSP, Home Guard, stationed at Police Control Room and BMC reached the spot immediately and pressed water tenders into services. They put off fire in minimum possible time and about two water tenders were utilised for extinguishing fire. However no one was injured in the mishap as the shop was closed when the fire occurred.
The gas burners and other valuables were gutted in the fire mishap. While confirming details, Gopal Vaishy, Station House Officer, Bhatti Police Station informed that on information a police team from the police station reached the troubled location immediately and cordoned off the area to curb the possibility of any untoward incident. As soon after emission of smoke a gas cylinder at the shop exploded and flames started reaching high. However the fire fighters from various agencies reached the spot and doused off fire. The cause of fire is stated to be short circuit in the closed shop, but it would finally be ascertained in the course of investigation by the agencies concerned.