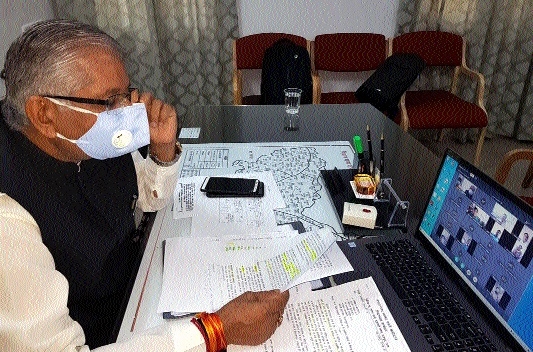 BJP leader Dharamlal Kaushik addressing the mediapersons.
Staff Reporter :
RAIPUR,
Bharatiya Janata Party has alleged that at a time when the Novel Coronavirus COVID-19 (SARS-CoV-2) pandemic is going out of control in State, the preparations made by the ruling Congress Government is highly in sufficient to control and prevent the spread of pandemic. Addressing mediapersons through a virtual press conference on Sunday, Bharatiya Janata Party Legislative Party Leader Dharamlal Kaushik expressed concern over the COVID-19 pandemic situation in State. He said the pandemic has gradually taken a nasty shape in State as it is gradually spreading in all districts. Stressing on the mismanagement in the quarantine centres Kaushik alleged that the ruling Congress Government is responsible for the deaths in these centres.
He demanded compensation for the deaths that have taken place due to COVID-19 infection or in quarantine centers, as these deaths were resulted due to State Government's negligence. Addressing mediapersons about the spike in COVID-19 cases in State said on June 1, 2020, the number of cases in State was merely 498, which gradually increased to 7,182 positive cases including 2,460 active cases as on July 25, resulting in deaths of 39 people. Similarly, in the month of July 2020, total cases amounted to 4,322 and total deaths were 25. Capital Raipur has become corona capital of Chhattisgarh averaging 200 cases per day since last two days and approximately 100 cases in last few days.
Due to mismanagement in quarantine centers and lack of psychiatric assistance, seven people have committed suicide while two others died of snake-bite. Another 12 people died due to other obvious reasons. Total 21 people have died in these quarantine centres due to negligence of state government. Who should be held responsible for this management asked Kaushik while adding that the family members of these people were not provided any compensation which exposes the height of insensitivity of the ruling Congress Government.
Two days ago a member of Baiga community committed suicide in Kawardha. Citing examples of other states, Kaushik alleged that it is due to negligence on the part of State Government that spike in COVID-19 cases has been registered. He said approximately 7 lakh migrant labourers entered the state from other states, of which, only 2.8 lalh migrant labourers were subjected to tests while others were left on their own without any assistance or tests. Kaushik alleged that in last two days 45 patients COVID-19 patients have not been admitted in hospitals, which exposes the State Government's preparedness and insensitivity. Kaushik further alleged that the State Government has failed to make complete arrangements for tests.
Due to corruption in the procurement of Rapid Test Kits, the State Government had to cancel the tender and when the same was procured from another company its reports were incorrect. On the other RT-PCR tests are yet to start in three districts. TrueNAT labs have been established in 13 districts. For every 10 lakh persons, 2,228 tests are conducted in Chhattisgarh, which is a very poor figure and the State stands in 23rd position in the country in testing.
Kaushik said presently there are only 3,384 beds in dedicated COVID-19 hospitals, of which, 1,110 beds are in Raipur and as on July 25, number of active cases in Raipur is 1,166. Similar situation is being encountered in other districts like Bilaspur, Durg, Kawardha, Janjgir, Bijapur and Sukma where active cases are more than the number of beds. There are 2,460 active cases in Chhattisgarh and there are only 500 ICU beds which is very low in comparison to the spike in cases. This is the reason why positive patients are not getting beds, which amounts to massive failure and insensitivity on the part of the ruling Congress government, alleged Kaushik.