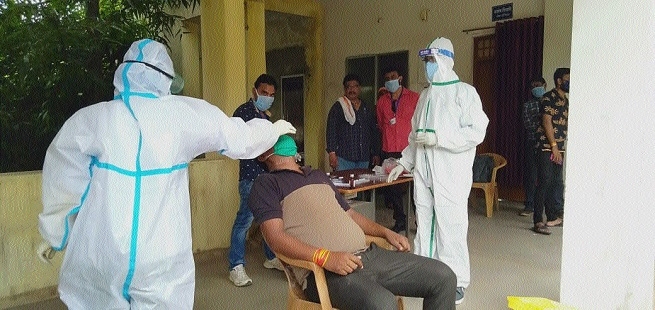 Samples being collected for testing.
Staff Reporter :
DURG,
After the 12 employees including clerk, data entry operator, coordinator, peon and other employees of Durg Zila Panchayat, were detected corona positive a stir has been created in the administration and health department, as the Panchayat Officers and employees in directed contact are exposed to the danger. As a result, the Durg Zila Panchayat building has been completely sanitized and sealed. Instructions have also been issued to keep the office closed till further orders.
District Panchayat is the major part of administration where the public, apart from public representatives, administrative officers, employees, visit every day. However, the health department has stepped forward and initiated efforts to identify such individuals who have come in direct contact with the corona positive employees. Also some people came forward by themselves for their safety and the safety of society. In this regard the health department conducted Rapid tests of such people at the Durg district panchayat campus on Monday.
For these two special teams of Health department was deputed. Samples of more than 50 people, including Durg District Panchayat President Shalini Yadav, District Sarpanch Association President, Rivendra Yadav, District Kisan Congress President, Krishna Dewangan, Additional Collector, Tehsildar Durg, District Panchayat and Janpad Panchayat employees, Collectorate staff, were collected. The investigation report of the sample collected will come after three days.