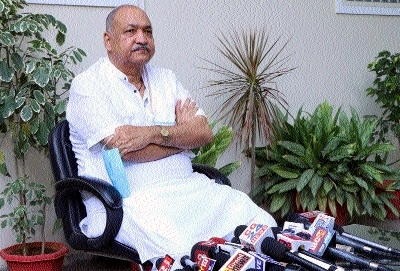 Staff Reporter :
RAIPUR,
The high-level meeting chaired by Chief Minister Bhupesh Baghel on Monday decided to extend the complete lockdowntill August 6. Briefing mediapersons about the decision, Agriculture Minister and State Government Spokesperson Ravindra Choubey said that keeping in view the spike in COVID-19 positive cases, previously a decision was taken to enforce complete lockdown from July 22 till July 28, which now has been extended till August 6.
Accordingly, the District Collectors have been empowered to enforce complete Lockdown till August 6 in districts where there is a spike in COVID-19 positive cases. The high-level meeting which was held at the official residence of Chief Minister to review the COVID-19 pandemic situation in State, was attended by members of Cabinet and senior administrative officials including Chief Secretary R P Mandal, Additional Chief Secretaries Amitabh Jain and Subrat Sahoo, Secretary (Health) Niharika Barik Singh and other senior administrative officials.
Choubey further informed that spike in COVID-19 cases have been registered from Raipur, Durg, Bilaspur, etc and therefore its prevention and control is utmost necessary. Hence after holding extensive discussion on the issue it was decided to extend the lockdown by another nine days from July 29 to August 6. He further added that areas where spike has been recorded, lockdown rules and regulations will be complied strictly.
Choubey informed that during the high-level meeting, Health Department officials informed that for making health services more effective for prevention and control of Novel Coronavirus COVID-19 (SARS-CoV-2) pandemic, District Collectors have been asked to meet the expenses of increasing number of beds for COVID-19 infection treatment in hospitals apart from appointments of lab technicians, Auxiliary Nurse Midwives (ANM) and Health workers from District Mineral Foundation Fund. The Agriculture Minister further informed that the high-level meeting which continued for closely 3-4 hours, also discussed extensively on situation of Kharif crops and keeping in view the requirement of water for irrigation of Kharif crops, it was decided to release water from reservoirs and dams from July 28, 2020 onwards, keeping in view the requirement and availability of water.
The high-level meeting also discussed the appointments in the remaining posts in corporations, boards, commissions and development authorities. Four-year integrated BEd course awaits University Coordination Committee nod Candidates can join the 4-year BEd course after graduating in their Class 12. The National Council for Teacher Education (NCTE) is working on the BEd curriculum.