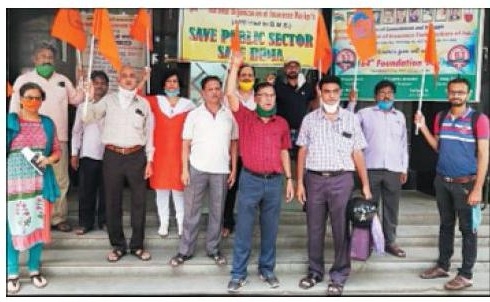 Business Bureau :
AS PER the call given by the central executive body of the Bharatiya Mazdoor Sangh (BMS), 'Sarkar Jagao Saptah' is being observed all over the country between July 24 and 30. Accordingly, the agitators are raising slogans at various places to press for their various demands. The union is demanding the Government to ensure wages and jobs for workers during the lockdown, withdrawal of orders by states to increase working hours and to immediately stop the privatisation in Railways and Defence.
There are other demands too of the union. Here in the city, Prakash Sohani, General Secretary of the BMS-Vidarbha Pradesh, said that the union would soon intensify the agitation if their demands are not met at the earliest possible. Archana Sohani, National Secretary of the National Organisation of Bank Workers. also expressed her views during the agitation held here on Tuesday.
Milind Ballay, National Secretary of National Organisation of Insurance Workers, said that there is no need to bring an IPO for the insurance sector. He also raised the issues such as salary increment, regularisation of daily wage employees, salaries for lockdown period and implementation of minimum wages.
The demonstration were held in presence of Arvind Bhumraokar, Suresh Choudhari, Kishore Bapat, Mahendra Bhisikar, Subash Pande, Dadarao Mulwande, Shyam Huddar, Swapnil Deshpande, Rajendra Tiwari, Shreeraj Ambhore, Varsha Patwardhan, Aruna Badalwar and others.