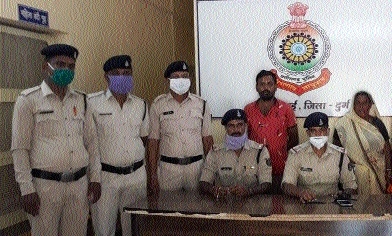 Staff Reporter ;
BHILAI,
A WOMAN was brutally killed by her husband and mother-in-law in Manchandur village of Utai, Durg. The police said that after thrashing the victim brutally she was hanged in an unconscious state till her death. The accused in-laws killed the woman suspecting extramarital affair, the police said. Police sources informed that the accused were identified as Khuman Sahu (Husband) and Rohini Sahu (Mother-in-law), residents of Khopli village under Machandur Police Post of Utai, Durg.
The accused were arrested in connection with the brutal killing of Lokeshwari Sahu (30), wife of Khuman Sahu, a resident of Khopli village of Utai, Durg. While investigating into the brutal killing police have also taken into custody Purendra Verma and Navin Chandrakar for assisting Khuman Sahu to destroy evidences of crime thereby misleading police investigation in the matter. The police have registered the offence against the accused under sections 302, 201 and 34 of Indian Penal Code for indulging in the criminal acts of murder, destroying evidences of crime and for common intent. Lakhan Patle, ASP (Rural) informed that the brutal killing came to light when on Monday morning the victim's brother Yogesh Sahu informed police that his sister Lokeshwari Sahu died under suspicious circumstances and her in-laws are preparing for the funeral. He also alleged constant torture of her sister at the hands of in-laws.
After reaching spot immediately police took the body into custody and initiated investigation in the matter. On being taken into custody the accused in-laws confessed their involvement in the heinous offence. As per confession of the accused Khuman Sahu and his mother Rohini Sahu, on Sunday late evening Lokeshwari Sahu was brutally beaten up by them after which she got unconscious. Seeing her unconscious they hanged her from the ceiling fan with the help of a towel till death.
While elaborating over motive behind the murder, ASP (Rural) Lakhan Patle said that Khuman Sahu and his mother Rohini Sahu killed Lokeshwari Sahu on suspicion of extramarital affair as she used to talk to a man over mobile phone and she had saved his number on her sister's name. He informed that in his confession the accused Khuman Sahu disclosed before police that on Monday morning, he called his friends Purendra Verma and Navin Chandrakar and told them that he might be arrested by police as his wife committed suicide today morning and that he had thrashed her severely previous night. He requested them to help him out of the situation. They together brought Lokeshwari Sahu down after cutting the towel with the help of a sickle. Afterwards in an attempt to destroy evidences of crime they dumped the sickle into a canal and burnt the towel. On instances of the accused police recovered the sickle and partially burnt towel. The police are further investigating to ascertain the facts.