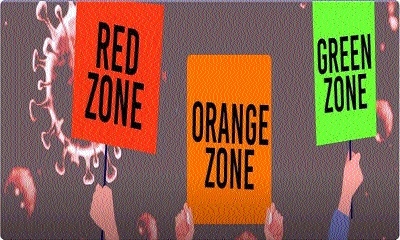 Staff Reporter :
RAIPUR,
As the State registering a heavy spike of COVID-19 positive cases, with the numbers of active COVID-19 patients crossing 2,700 mark and numbers of positive patients crossing 8,000 mark, as on Tuesday, 127 blocks across 28 districts including capital Raipur and all major cities, have been classified into Red Zone. The State Government had to re-enforce complete lockdown till August 6, 2020, due to heavy spike in COVID-19 positive cases. With the number of blocks under Red Zone gradually increasing, the State has registered 46 deaths so far, of which, 13 deaths are directly due COVID-19 infection while 33 COVID-19 patients died due to Associated Comorbidity.
However, good news among all this is that 5,439 COVID-19 positive patients have been discharged after treatment from various COVID hospitals across State. According to the fresh classification of Red, Orange and Green Zones issued by the Health and Family Welfare department in Chhattisgarh, 127 development blocks across all 28 districts have been classified into the Red Zone. Similarly, 28 development blocks across 15 districts have been classified into Orange Zone. The classification has been done as per figures based till July 26, 2020. Though the classification is a continuous process and is amended every Monday, however, this classification was last issued on July 14, 2020.
Of these, worst affected is Rajandagaon district with 10 development blocks classified into Red Zone. Similarly, 8 development blocks each in Raigarh and Janjgir-Champa, seven development blocks in Jashpur, six development blocks each in Baloda-Bazaar, Balrampur and Bastar districts and five development blocks each in Raipur, Mahasamund, Gariaband, Durg, Surguja, Bilaspur, Korba and Balod have been classified into Red Zone. The gradual outbreak of new positive cases daily has led the State Health department to revise the district-wise classification. While issuing the fresh classification for Red, Orange and Green Zones for development blocks, the State Health and Family Welfare department has stated that the classification has been made in compliance of the guidelines issued by Union Health and Family Welfare Ministry, while taking into consideration the numbers of COVID-19 positive active cases in development blocks and urban areas in the state, the rate of doubling of COVID-19 positive cases and on the basis of sample examination per lakh population.
Accordingly, the development blocks under districts classified as Red Zone are, Raipur (urban), Abhanpur, Arang, Tilda and Dharsiwan in Raipur district; Mahasamund, Pithora, Bagbahara, Basna and Saraipali in Mahasamund district; Mainpur, Rajim, Chura, Deobhog and Gariaband in Gariaband district; Lavan, Bhatapara, Bilaigarh, Palari, Kasdol and Simga in Balodabazaar district; Dhamdha, Nikum, Bhilai (urban), Durg (urban) and Patan in Durg district; Bemetara, Nawagarh, Saja and Berla in Bemetara district; Balod, Gurur, Dondilohara, Dondi and Gunderdehi in Balod district; Rajnandgaon (urban), Manpur, Mohla, Ambagarh Chowki, Churiya, Ghumka, Dongargarh, Khairagarh, Dongargaon and Chuikhandan in Rajnandgaon district; Kawardha, Bodla, Sahaspur-Lohara and Pandaria in Kabirdham district; Kota, Takhatpur, Bilaspur (urban), Masturi and Bilha in Bilaspur district; Kartala, Korba (urban), Katghora, Pali and Pondiuproda in Korba district; and Lormi, Mungeli and Pathariya in Mungeli district. Similarly, Baramkela, Sarangarh, Kharsiya, Lailunga, Pusaur, Loing, Raigarh (urban) and Dharamjaigarh in Raigarh district; Bamhinidih, Dabhra, Jaijaipur, Nawagarh, Pamgarh, Sakti, Malkharauda and Akaltara in Janjgir-Champa district; Marwahi and Pendra in Gaurela-Pendra-Marwahi district; Ambikapur (urban), Lakhanpur, Udaipur, Batauli and Sitapur in Surguja district; Balrampur, Rajpur, Wadrafnagar, Ramanujganj, Shankargarh and Kusmi in Balrampur district; Pathalgaon, Duldula, Kansabel, Lodam, Pharsabahar, Kunkuri and Bagidha in Jashpur district; Khadgawan, Baikunthpur and Manendragarh in Koriya district; Surajpur and Pratappur in Surajpur district; Kanker, Narharpur, Koylibeda and Antagarh in Kanker district, Narayanpur in Narayanpur district; Dantewada, Geedam, Katekalyan and Kuakonda in Dantewada district; Darbha, Lohandiguda, Nangur, Bastar (urban) and Bastar in Bastar district; Kondagaon in Kondagaon district; Sukma and Konta in Sukma district; as well as Bijapur and Usur in Bijapur district have been classified as Red Zone.
Under the Orange Zone, Kurud in Dhamtari district; Charoda (urban) in Durg district; Gharghoda and Tamnaar in Raigarh district; Balauda in Janjgir-Champa district; Gaurela in Gaurela-Pendra-Marwahi district; Mainpat and Lundra in Surguja district; Jashpur and Manora in Jashpur district; Sonhat and Bharatpur in Koriya district; Ramanujnagar, Bhaiyyathan and Odgi in Surajpur district; Durgukondal, Bhanupratappur and Charama in Kanker district; Orcha in Narayanpur district; Bakawand, Tokapal and Kilepal in Bastar district; Vishrampuri, Makdi and Pharasgaon in Kondagaon district; Chindgarh in Sukma district; Bhairamgarh and Bhopalpattanam in Bijapur district have been classified into Orange Zone. Some development blocks have been included in the Orange Zone despite having no positive COVID-19 cases due to low rate of testing per lakh population. All the remaining development blocks in all 28 districts in the State have been classified into Green Zone.