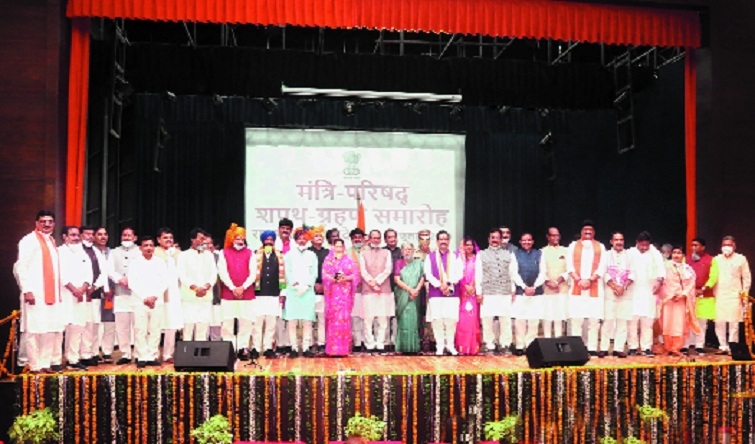 Governor Anandiben Patel, Chief Minister Shivraj Singh Chouhan, Ministers Dr Narottam Mishra, Kamal Patel and others posing for a photograph along with newly-inducted ministers after the oath-taking ceremony in Bhopal on Thursday.
Staff Reporter
BHOPAL,
AS MANY as twenty-eight new Ministers took oath of office during a ceremony held at Madhya Pradesh Raj Bhawan in the State capital on Thursday. Out of 28 ministers, 20 are Cabinet rank ministers and 8 are Ministers of State. In this Cabinet expansion of the Shivraj Singh Chouhan Government, the stamp of Jyotiraditya Scindia's influence is clearly visible as dozen of his loyalists among the new inducts. Of the new ministers, 16 are BJP legislators, while 12 are former Congress MLAs -- most of them Jyotiraditya Scindia supporters -- who joined BJP more than three months and will now have to face by-polls. Earlier, Governor Anandiben Patel administered the oath of office to newly-inducted ministers.
Gopal Bhargava, Jagdish Dewda, Vijay Shah, Bisahulal Singh, Yashodhara Raje Scindia, Bhupendra Singh, Aidal Singh Kansana, Brijendra Pratap Singh, Vishwas Sarang, Imarti Devi, Dr Prabhuram Chaudhary, Mahendra Singh Sisodia, Pradhyuman Singh, Prem Singh Patel, Om Prakash Saklecha, Usha Thakur, Arvind Bhadoriya, Mohan Yadav, Hardip Singh Dung, Rajvardhan Singh Datti Gaon took oath as Cabinet ministers. Meanwhile, Bharat Singh Kushwaha, Indar Singh Parmar, Ramkhilawan Patel, Ramkishore Kanware, Brijendra Singh Yadav, Giriraj Singh Dandotia, Suresh Dhakad, OPS Bhadoria took oath as Ministers of State.
From the Scindia camp, Imarti Devi, Prabhuram Choudhary, Mahendra Singh Sisodia, Pyadyumna Singh Tomar, Rajwardhan Singh Dattigaon were inducted as cabinet ministers, while Brajendra Singh Yadav, Girraj Dandotia, Suresh Dhakad and OPS Bhadoria were sworn in as ministers of state. Bisahulal Singh, Hardeep Singh Dang and Aidal Singh Kansana (all cabinet ministers) were also among the Congress MLAs who rebelled but they are not considered close to Scindia.
From the BJP, Prem Singh Patel, Om Prakash Saklecha, Usha Thakur, Arvind Bhadoria and Mohan Yadav were inducted as Cabinet Ministers, while Bharat Singh Kushwaha, Inder Singh Parmar, Ramkhelavan Patel and Ram Kishore Kavre took oath as Ministers of State. With the induction of Yashodhara Raje Scindia, Imarti Devi and Usha Thakur, the State now has four women ministers. In the first expansion, Meena Singh was sworn-in.