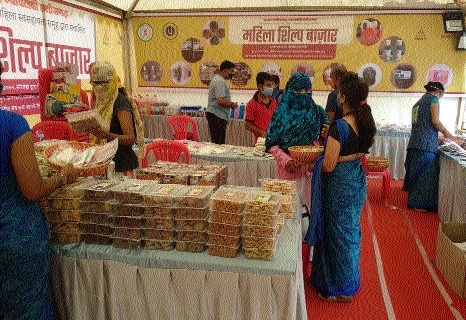 Sales of local products and rakhis made by Ujala Village Group near Jawahar Bazaar packed with customers on Wednesday.
Staff Reporter ;
RAIPUR,
THE women of Ujala Village Group received good response during the sale of indigenous products near Jawahar Bazaar, Malviya Road here on Wednesday. The group connected with Zila Panchayat received extensive support under National Rural Livelihood Mission and verities of 'Rakhi' was the centre of attraction among other products during the special sale.
Chief Executive Officer of Zila Panchayat Dr Gaurav Kumar Singh guided the group for organising exhibition-cum-sale of products made by them which included rakhis, chocolates, bio-soap, herbal tea, incense sticks, phenol, sanitisers, face shield, bulb, normal and designer masks, colgate, cookies, ragi, munga, kodo, valvet pencils, and normal and designer candles.
Dr Gaurav Kumar Singh said that multiple products made by the women group was sold through a temporary counter set in front of the Jawahar Bazaar. He further said that customers showed keen interest and purchased products in good quantity. As a special attraction, the group introduced beautiful designer rakhis made from cow dung, bamboo, vegetable seeds and silk thread for the children was praised by the visitors and received good response.