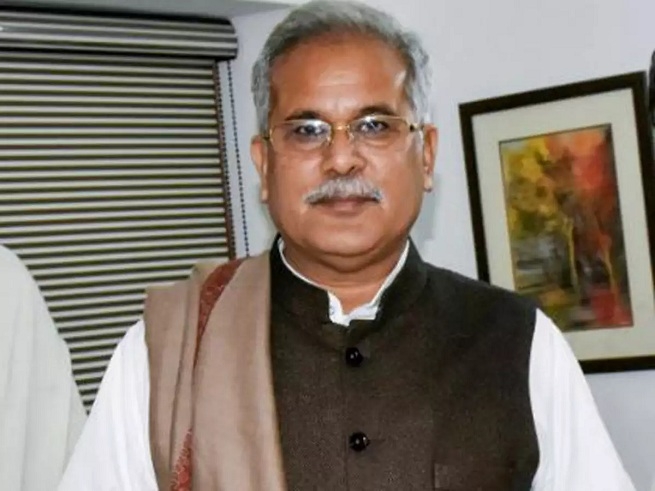 Staff Reporter ;
Raipur,
Better recovery rate of corona patients in Chhattisgarh, minimal casualty rate, Chhattisgarh doing much better than many states: CM
CM appeals people to celebrate the Eid and Rakshabandhan only in homes
Chief Minister Bhupesh Baghel has said that the decision of lockdown in cities was taken to prevent spread of corona infection and requested the people to take lockdown seriously. He said that lockdown does create difficulties for people, but if people do not follow safety and prevention norms, then the lockdown situation cannot be avoided. "This is the time for us to be concerned about the situation, to be cautious and to follow the safety measures seriously," the Chief Minister said in a televised address.
Chief Minister said that although situation in Chhattisgarh is much under control as compared to other states, but recently the number of infected patients raised consistently. These are all the consequences of people not following the precautions during unlock. Recovery rate of corona patients is much better in Chhattisgarh and casualty rate here is significantly low. Baghel said that Chhattisgarh is doing better than many states and with cooperation of people the State can do even better in the direction of preventing corona infection. At present, more than five thousand samples are being tested every day in State and soon it will be increased to ten thousand samples per day.
Chief Minister said that doctors are working diligently for treatment of covid patients. Large number of patients have recovered and returned home. Eight regional and 22 district-level hospitals of State have COVID-19 treatment facility. All the COVID Hospitals have sufficient stock of masks, PPE kits, triple layer masks, VTM and necessary medicines. Chief Minister said that he has directed the officials concerned to ensure availability of oxymeter. Chief Minister appealed people of State to compulsorily wear masks, wash hands frequently and practice physical distancing, besides avoiding crowded places. "If we take precautions seriously, we would be able to contain corona virus infection," he said.
State Government, along with all its departments, physicians, sanitation workers, police officials etc are busy in preventing and treating the COVID-19 infection. But if people do not take precautions, it would become difficult to prevent the virus. Baghel said that he has received information about certain groups protesting against the collection of samples by health workers in certain areas and are stopping them from doing the test. The Chief Minister requested these groups to understand the situation and its seriousness. These steps are being taken for well-being the people and asked them to cooperate with the health workers. Chief Minister also extended his best wishes for the festival of Eid and Rakshabandhan and requested the people to celebrate the festival only at their homes with their families for prevention of corona infection. Chief Minister said, "We will have to live up to our social responsibility by avoiding crowding at places. I firmly believe that we all would understand the seriousness of the situation and be cooperative towards prevention of COVID-19."