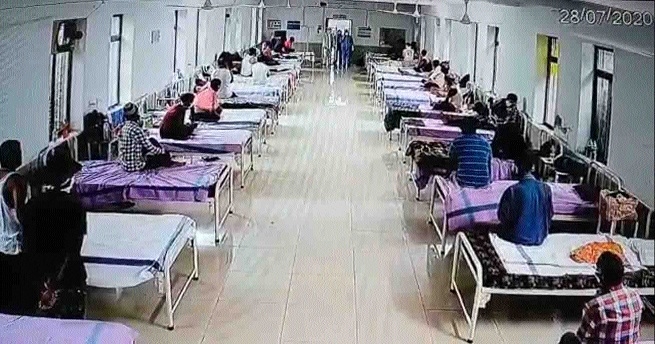 Patients at the Regional Leprosy Training and Research Centre Lalpur.
Staff Reporter ;
RAIPUR,
Patients kept under Covid centres at Regional Leprosy Training and Research Centre in Lalpur are facing problem due to inadequate arrangements. While talking to The Hitavada, Chief Medical and Health Officer, Dr Meera Baghel informed that Regional Leprosy Training and Research Centre in Lalpur has 90 beds under Covid Centre. Arrangements have been made to keep asymptomatic patients who are found positive during test. Three doctors and a supervisor have been deployed in each shift. In three shifts nine doctors and nursing staff are posted to take care of the patients.
She added that doctors though have been deployed, but they fear going to the patients. As per schedule staff nurse take care of the patients and their temperatures are taken three times in the hospital. Three times food is provided to the patients which are supplied by out sourcing. As per information received from patients admitted in the centre the food supply was not on time. Lunch is served to the patient at 3:30 pm or 4 pm and dinner at 10 pm. In the morning only tea was served.
Doctors on duty were very hesitant to enter the hall with Corona positive patients out of fear. Gradually the staff started recording the condition of patients once in a day and medicine is given to them. A video of the maltreatment of patient and insufficient arrangement in the centre went viral in social media. After which higher authorities intervened after which there has been improvement in the condition.