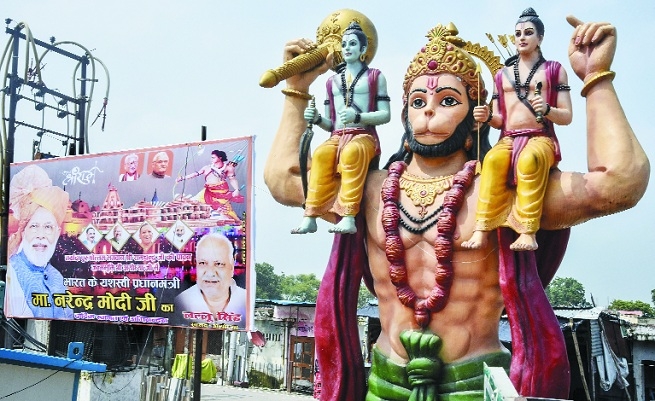 A hoarding of PM Narendra Modi and other leaders put up beside a statue of Lord Hanuman, ahead of the foundation laying ceremony of Ram Temple in Ayodhya on Thursday. (PTI)
MAHARAJGANJ,
UTTAR Pradesh police and Sashastra Seema Bal have been put on high alert in the districts bordering Nepal ahead of Prime Minister Narendra Modi's visit to Ayodhya, Independence Day and the coming festival season, a senior official has said.
The forces have stepped up vigil along the border. They have been asked to ascertain the identity of people before allowing them through the open and porous border, he said. The ADG referred to "some Intelligence inputs" but did not elaborate. "Cameras have been put on SSB posts. The dog squad and one platoon of women wing have also been deployed. Metal detectors have been installed at Indo-Nepal border. According to the Intelligence input, Pakistan Army would facilitate the infiltration of 20-25 trained Taliban members through LoC and 5-6 cadres through India-Nepal border.
Lord Ram's images to be displayed at Times Square
NEW YORK,
July 30 (PTI)
IMAGES of Lord Ram and 3D portraits of the grand Ram Temple in Ayodhya will be beamed across the giant billboards in the iconic Times Square here on August 5 to celebrate the temple's groundbreaking ceremony, with organisers describing the commemoration as a one-of-a-kind and historic event. Prominent community leader and President of the American India Public Affairs Committee Jagdish Sewhani on Wednesday said that arrangements are being made to celebrate the historic moment in New York on August 5.
Sewhani told PTI that among the prominent billboards that are being leased for the occasion are the giant Nasdaq screen and the 17,000-square-foot wrap-around LED display screen, considered among the largest continuous exterior displays in the world and the highest-resolution exterior LED screen in Times Square.
Beginning from 8 am on August 5 till 10 pm, images of the words 'Jai Shri Ram' in Hindi and English, Lord Ram's portraits and videos, 3D portraits of the temple's design and architecture as well as pictures of the laying of the foundation stone by Modi will be displayed across several billboards, which are among the most striking and popular features of Times Square, one of the most popular tourist destinations in the world.