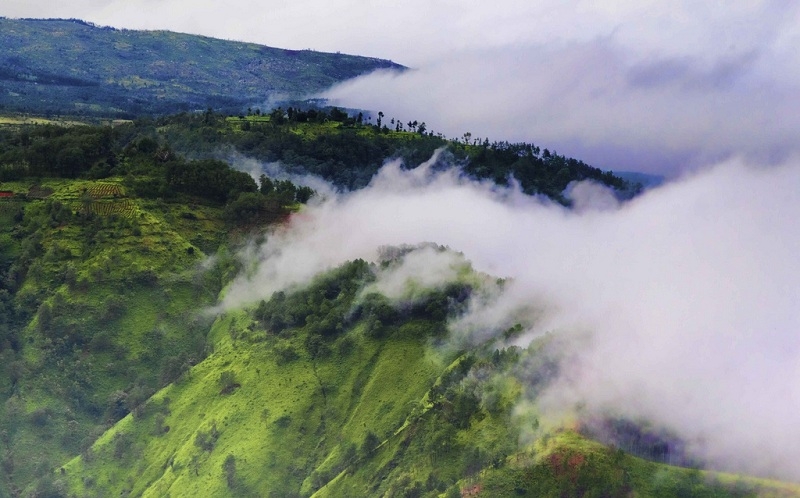 By DR PRADYNA NIKHADE :
I tall happened that in the middle of working days, a decision was taken to visit North East. Better known as seven sisters and a brother,atrip was arranged to visit Meghalaya which literally means the a bode of clouds. Meghalaya is one of themost beautiful states in northeast India.Giftedwithincrediblenatural beauty, Meghalaya has tremendous power to attract tourists round the year.Anun explored destination, Meghalaya has great tourism potential. From the moment one leaves Lokpriya Gopinath Bordoloi airport At Guwahati, incredible natural beauty mesmerises the soul.Bounded by lovely hills and mountains, this place is situated at the height from where one can have a serene view of various locations. Meghalaya tourism is focused ondevelopinginfrastructureas tourist spots and nature.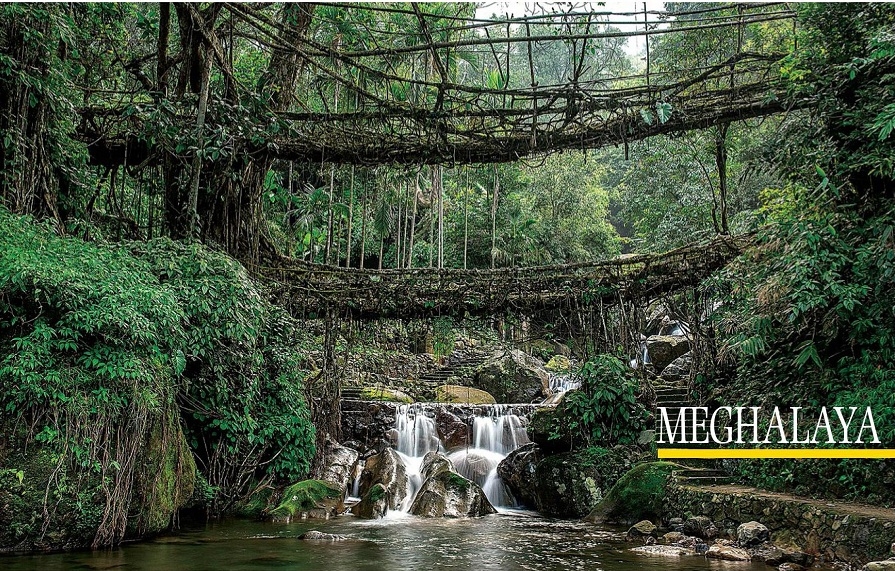 On south and west boundary, People'sRepublicof Bangladesh stands high and the north and east is bounded by Assam. Shillong is the capital aka 'Scotland of the East.' Earlier a part of of Assam, Meghalaya became a new state in1972. The official language is English. Other spoken languages are Khasi, Pnar and Garo. As we proceeded towards Shillong by road, the driver briefed us about the historical backgroundof thisdreamland. Meghalaya has historically followed amatrilineal system where the lineage and inheritance are traced through women;theyoungestdaughter gets the assets and she takes care of her parents. Meghalaya hasrich heritage of forests. It is considered to be the largest botanical habitat of Asia. It receives heavy rainfall all round the year and hence there is rich flora and fauna. Some forests are reserved for religious rituals.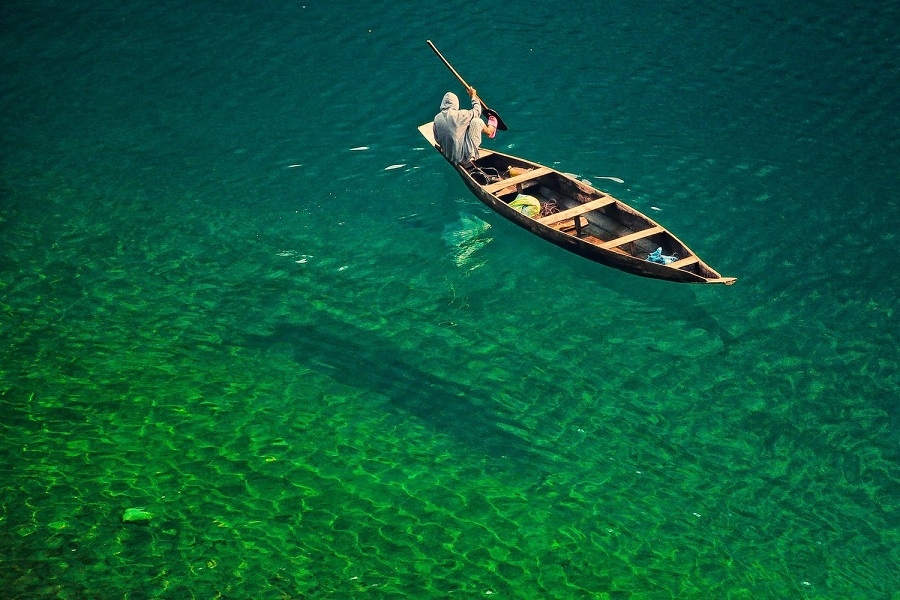 The Nokrek biosphere reserve and Balaphakram national park in west and south Garo hills respectively are said to be rich in biodiversity. Meghalaya has many wild life sanctuaries rich with a variety of mammals, birds, reptiles and insects. Cherrapunjee is considered the wettest place on Earth. It's a small town in the east Khasi hills. We were lucky enough to visit this beautiful place in the wee hours. Mawsynram is the part of Cherrapunjee whose original name is Sohra. It is famous for Living root bridges whicharetreattotheeyes.These bridges are naturally made of the roots of huge rubber plants tangled to form hammocks. Mawsmaicaves inclosevicinity are a tourist attraction. On entering one wonders how one canget throughthecaves to the other end. Made of limestones, we get spell bound to see the natural pattern s all around.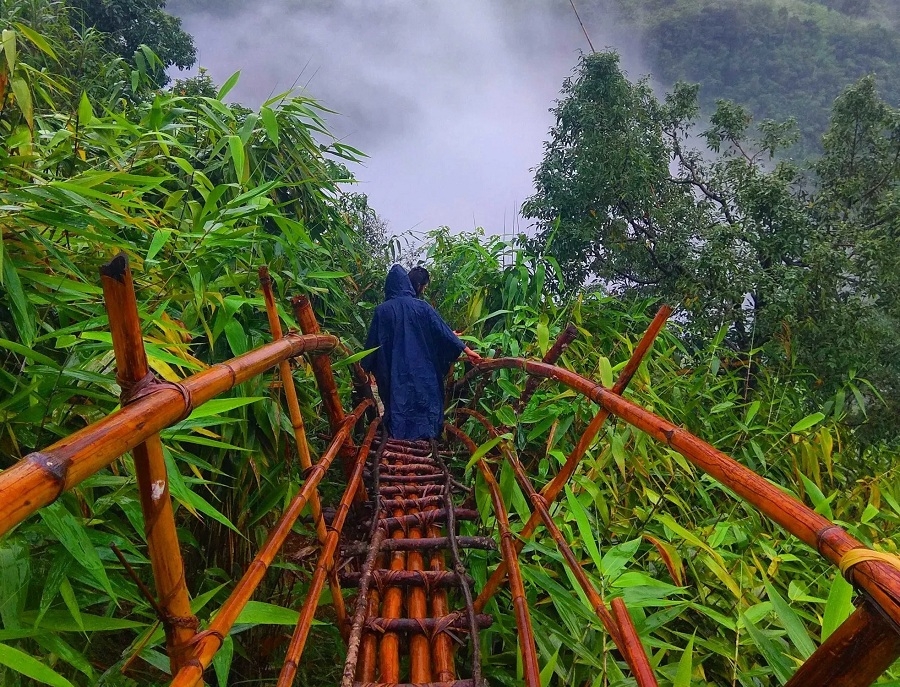 Asone enters the caves, the space becomes restricted and at certain points we literally have to squeeze ourselves to get through. The whole design makes you wonder about the natural wonders and one tries topicturise the patterns through unblinking eyes. Nohkalikai falls is the tallest plunge waterfall in India. With a height of 1115 feet it is supplied by rain water.Below the falls there is aplunge pool with green coloured water. Mawlynnong isavillage situated in the east Khasi hills of Meghalaya. It is also known as 'God's own garden'and has won the status of being the cleanest village in Asia in 2003.The village is kept clean by the villagers and forwaste disposal, bamboo bins are kept hanging everywhere. We could view the Bangladesh plains located on the Indo-Bangla Border. Elephant falls are one of the threewaterfalls. Aswe descend down on the stairs, we are refreshed by a cool breeze.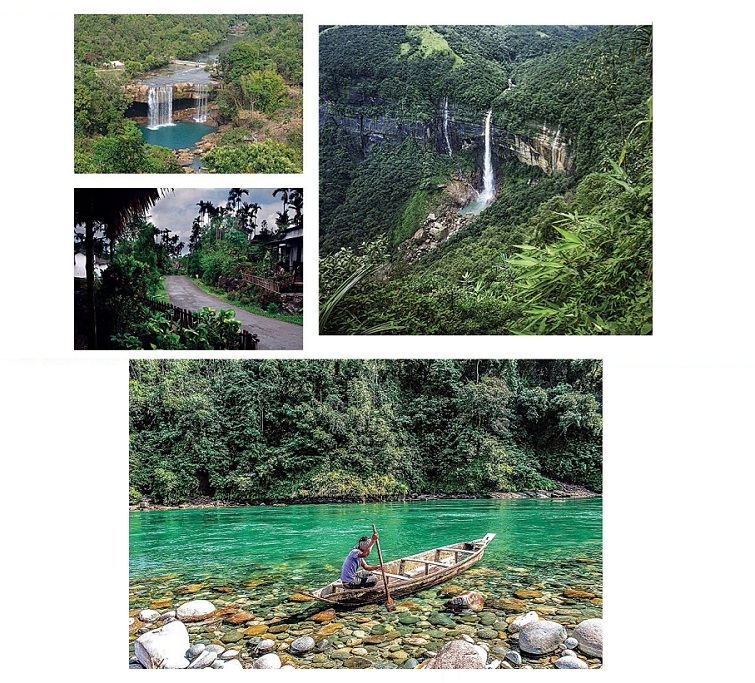 The walking path took us to the bridge from where we could admire the wide falls. There are many more places to explore like Lake Umiam, Mawkhong, balancing rock, Shillong peak view and seven sister falls. "Beauty lies in the eyes of beholder" as well said by John Keats …the experience came as a breath of fresh air. We returned with everlasting memories to cherish for lifetime and with promises to visit next sister again.