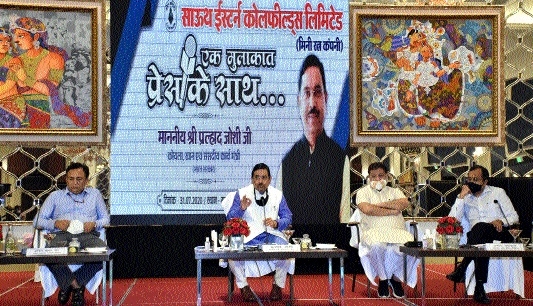 Asserting that the discussions on some outstanding issues with Chief Minister Bhupesh Baghel was held in a very cordial environment, Union Coal and Mines Minister Prahlad Joshi said that Coal Ministry has accepted the suggestion of Chhattisgarh Government to replace five mines out of nine mines put under commercial coal auctions in the State.
The Union Coal Minister further added that in addition, three new mines will be added for commercial auction on the suggestion of Chhattisgarh Government. Now, total number of mines put on auction in the State for commercial mining shall be seven while the overall reserve of the coal of all auctioned mines shall remain almost same. The Union Coal Minister Prahlad Joshi while interacting with media through virtual press conference after meeting with Chief Minister Bhupesh Baghel during his visit to Chhattisgarh, said the meeting was very positive, progressive and open minded on discussions on various issues related to coal mining in the state. The Chief Minister has also given some good suggestions on DMF and NMET which will be consider positively, he added. He further added that Prime Minister Narendra Modi believes cooperative federalism and accordingly had directed to resolve all issues hampering centre-state relationships.
Briefing media persons the Union Coal Minister said a target of One Billion Tons coal production has been set for Coal India Limited (CIL) till 2023-24. He categorically assured that the centre doesn't have any plans for disinvestment in CIL instead it is on the verge of strengthening it. The Union Coal Minister said that during meeting with the Chief Minister it was also decided to get a proposal by a committee comprising of CIL, Chhattisgarh government and MAHAGENCO officials in 15 days for shifting of a railway line of Chhattisgarh East Railway Limited (CERL). A proposal in a month will also be submitted by CMPDI and officials of Chhattisgarh government for using mined out lands for dumping fly ash. The State will form a nodal agency to ensure supply of coal to the retail consumers of coal. Discussions were also made to contain petty crimes related to coal in the state.
Joshi said that commencement of commercial coal mining will start new era of growth and development in Chhattisgarh. Under commercial coal mining the State will fetch minimum Rs 4,400 crores revenue in one year. It will also create around 60,000 additional employment to the people of the State. Additionally, commercial coal mining will contribute around Rs 25 crores to the various District Mineral Foundation (DMF) funds of the state which can be used for inclusive development of regions surrounding coalfield areas. Stressing upon the importance of coal mining for Chhattisgarh he said in last 4 years, more than Rs 13,200 crores have been paid to the state as part of statutory levies by SECL. Moreover, with enhanced coal production, SECL will pay around Rs 22,900 crores as revenue to the state's exchequer in the next four years. He said SECL's holding company, Coal India Limited (CIL) has planned Rs 26,000 crores capex for developing infrastructures across Chhattisgarh in the next 4 years. Adding that Chhattisgarh East Railway Limited (CERL), a joint venture of SECL, IRCON and CSIDC has incurred more than Rs 2,000 crores capex till date, the Union Coal Minister said the CERL rail corridor will meet the logistic challenges on coal evacuation and providing the region with passenger train connectivity. This corridor has a total length of 193 Kms and is being developed in two phases (Phase I - Kharsia to Dharamjaigarh (131 Kms) and Phase II Dharamjaigarh to Korba (62 Kms) upto Gare-Plama Block of Coal Mines. Under Phase I, 43 Kms section from Kharsia to Korichapar has already been commissioned for goods traffic.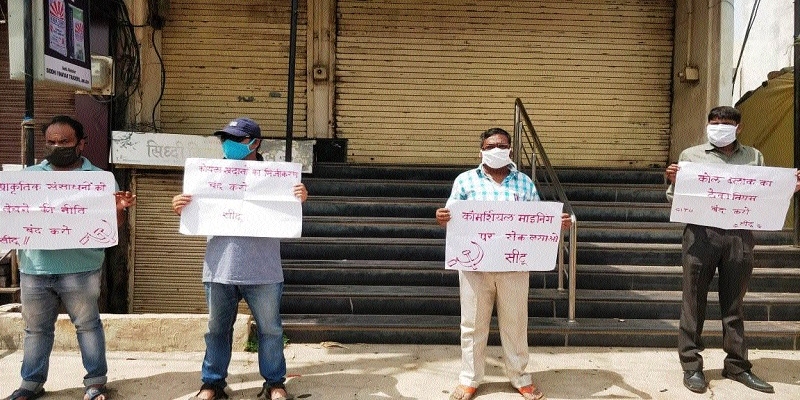 CITU opposes auction of coal blocks
CentrE of Indian Trade Union (CITU) Chhattisgarh State Committee sternly opposed the Union Government's decision to allow commercial mining and auctioning of 41 coal blocks to Corporates. CITU and Marxist Communist Party members staged a protest to demand rollback of the decision on Friday.
CITU State Secretary Dharmraj Mahapatra stated that coal labourers had protested against the decision from July 2 to 4, yet the Union Government took the decision instead of reconsidering it. In a meeting of Trade Unions, labourers have decided to take concerted actions. Mahapatra took a jibe at Union Government, saying they talk about self-reliance on one side, but selling the national wealth on the other. He demanded the Chhattisgarh Government to challenge the decision in the Court considering the ill-effects of coal mining on tribal society, environmental hazards, biodiversity and destruction of wildlife, infringement of state government's rights and violation of federal structure and Paris Accord. Of the 9 blocks included in the list for auction, 5 blocks are in environmentally sensitive areas. These areas are declared no-go zones for elephant conservation and other reasons. In 2015, 20-gram panchayats in these areas have passed proposal against coal mining by exercising the provisions of PESA, Forest Rights Act and fifth Schedule. It also goes against the Supreme Court's decision in the coal scam, which contain that national wealth shall only be used in the national interest and to fulfil the needs of the nation. The national wealth like Coal doesn't belong to any government, but the people.
CBA demands cancellation of auction process initiated for 41 coal blocks
Chhattisgarh Bachao Andolan(CBA) has demanded cancellation of the auction process initiated for 41 coal blocks including those situated under Hansdeo Aranya area, under the commercial coal mining initiative, citing destruction of prosperous forested zones and environment, as reason.
Chhattisgarh Bachao Andolan State Convener Alok Shukla called on Union Minister for Coal and Mining Prahlad Joshi during his visit to Raipur and demanded protection of prosperous forested regions including Hansdeo Aranya by cancelling auction process of 41 coal blocks.
In a memorandum submitted to the Union Coal and Mines Minister, Chhattisgarh Bachao Andolan State Convener Alok Shukla stated that the Ministry of Coal has initiated the process of carrying out auction of 80 odd coal blocks across the country with a slogan Unleashing Coal, New Hope for Atmanirbhar Bharat, for commercial mining. Of these, 41 coal blocks are situated in prosperous forested zones having rich bio-diversity, which are habitats to significant wildlife as well as watershed areas for life-giving rivers. Tribals and other traditional forest-dwellers are dependent on these forests and forested lands for their livelihood since ages.
Shukla said 14 out of these 41 coal blocks come under NO GO area demarcated by the Union Environment and Forest department where it has expressed no mining activities. Also, most of the coal blocks earmarked for auction come under Schedule 5 area, where autonomous gram sabhas are present and are continuously opposing the move.Shukla further added that this auction process is also against the historic Supreme Court decision which came in 2014, wherein, it was stated that coal is a precious mining resource and should be used for the country's requirements. Along with local communities, environment activists, trade unions as well as the state governments are opposing the process on their respective issues. Despite which the auction process is being carried out by the Coal Ministry undermining these concerns allegedly for the profit and welfare of corporate houses.The Chhattisgarh Bachao Andolan in its memorandum mentioned that of the nine coal blocks earmarked for auction in Chhattisgarh, five are situated in the densely forested Hansdeo Aranya zone which is full of biodiversity and habitat for elephants. It is also a catchment area of River Mand. If the document under inviolate policy of the central government is referred, 18 out 20 coal blocks in Hansdeo Aranya area has been considered inviolate, despite which five coal blocks from the region have been earmarked for auction while another 7 blocks have already been allocated to public sector companies. He said if the Ministry proceeds with the auction of these blocks it would result in augmentation of human-elephant conflict at an alarming level.