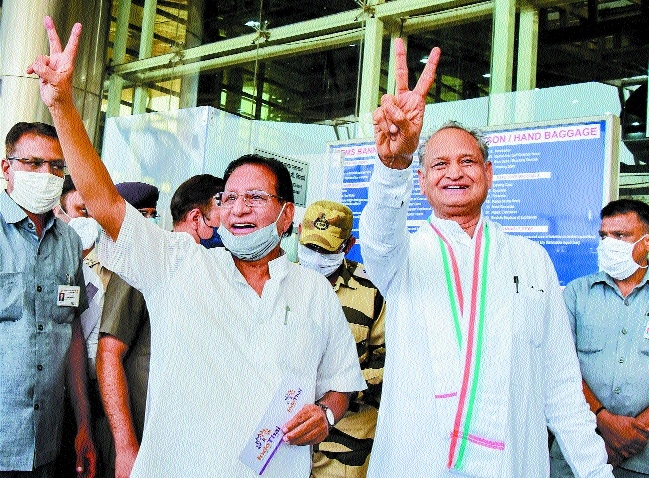 Rajasthan CM Ashok Gehlot and senior Congress leader Shanti Dhariwal flash victory sign at Jaipur Airport. (PTI)
FEARING "horse-trading" ahead of the Assembly session, the Rajasthan Congress on Friday shifted the party MLAs to Jaisalmer from Jaipur where they had been staying at a hotel for over a fortnight. Chief Minister Ashok Gehlot and other senior party leaders, including AICC General Secretary Avinash Pande and spokesperson Randeep Surjewala, also moved to Jaisalmer along with the MLAs in five chartered flights. Gehlot alleged that the MLAs, their family members and acquaintances were getting threat calls and pressure was being build on them after the announcement of the assembly session from August 14.
He said that the "rate for horse-trading has increased after the Governor announced the Assembly session date". Gehlot said that his party has undertaken a campaign to save the democracy in the country. Targeting Home Minister Amit Shah, the Chief Minister said that he took the BJP leader's name as he comes (on the forefront) "where the Government is toppled". "What has happened to you. You day and night think how to topple elected Governments. How the democracy in the country will be saved if elected Governments are toppled," he asked. Talking to reporters at the Jaipur airport before leaving for Jaisalmer, the Chief Minister said that there will be no compromise with the governance as he and his ministers will remain in Jaipur most of the time.
"The State Government has performed well in the coronavirus management. Our efforts have been appreciated all over. We have maintained law and order situation as well but saving the government is also important. When the Government of India and home ministry is (running) after, public is supporting us," he said. AICC General Secretary Avinash Pande said that it is the "effort to protect the democracy". State Transport Minister Pratap Singh Khachariyawas said that the MLAs were shifted to Jaisalmer so that they can be kept united.
Raj Cong chief whip moves SC against HC order on MLA's disqualification process: RAJASTHAN Congress chief whip Mahesh Joshi on Friday moved the Supreme Court against High Court order of July 24 asking the Assembly Speaker to defer disqualification proceeding against sacked deputy Chief Minister Sachin Pilot and 18 MLAs. The chief whip has moved the top court two days after the Assembly Speaker CP Joshi filed the appeal against the July 24 Rajasthan High Court order. The plea filed through advocate Varun Chopra said that the High Court order is "ex-facie unconstitutional, illegal and in the teeth of the law laid down by this court in 1992 verdict in the case of Kihoto Hollohon".