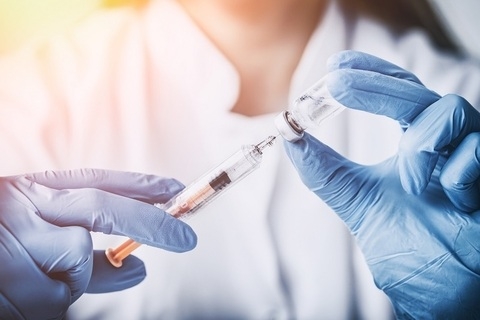 NEW YORK,
A LEADING candidate of COVID-19 vaccine developed by global healthcare company Johnson & Johnson raised neutralising antibodies and robustly protected monkeys against SARS-CoV-2, the virus that causes COVID-19 in a single immunisation shot. "This vaccine led to robust protection against SARS-CoV-2 in rhesus macaques and is now being evaluated in humans," said study researcher Dan H. Barouch from Beth Israel Deaconess Medical Center (BIDMC) in the US.
The vaccine uses a common cold virus, called adenovirus serotype 26 (Ad26), to deliver the SARS-CoV-2 spike protein into host cells, where it stimulates the body to raise immune responses against the coronavirus. Barouch has been working on the development of a COVID-19 vaccine since January when Chinese scientists released the SARS-CoV-2 genome. The research team developed a series of vaccine candidates designed to express different variants of the SARS-CoV-2 spike protein, which is the major target for neutralising antibodies.
They conducted a study in 52 NHPs, immunising 32 adult rhesus macaques (monkeys) with a single dose of one of seven different versions of the Ad26-based vaccine, and giving 20 animals sham vaccines as placebo controls. All vaccinated animals developed neutralising antibodies following immunisation. Six weeks after the immunisation, all animals were exposed to SARS-CoV-2. All 20 animals that received the sham vaccine became infected and showed high levels of virus in their lungs and nasal swabs. Of the six animals that received the optimal vaccine candidate, Ad26.COV2.S, none showed the virus in their lungs, and only one animal showed low levels of virus in nasal swabs.
US vaccinates 'several hundred' people in first days of phase 3 COVID-19 trials
WASHINGTON DC,
July 31 (Sputnik/ANI)
THE United States vaccinated several hundred volunteers during the first days of two Phase 3 COVID-19 vaccine trials, senior administration official told reporters. "Without revealing a lot of numbers, there were several hundred folks who get vaccinated on day one and the last couples of days," the official said on Thursday. Both trials began on Monday by Moderna and Pfizer companies in cooperation with the National Institutes of Health (NIH) and other federal health organisations, he added. US Government and private companies are building technologies for monitoring COVID-19 vaccine deployment, the official noted.