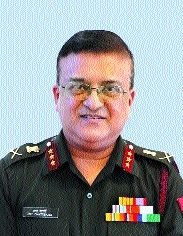 Staff Reporter ;
Lt Gen Joy Chatterjee, VSM, has taken over as the Commandant, Army Hospital (Research & Referral), New Delhi, recently. Lt Gen Joy Chatterjee hails from Nagpur. Army Hospital (R&R) is the premier hospital of the three Armed Forces with more than 1,000 beds and deals with the most complex cases referred from all over the country. Lt Gen Joy Chatterjee took over charge of his office on July 29, with change over from the Indian Navy to the Indian Army owing to the onerous responsibility of his post. Prior to taking over his new assignment, Lt Gen Joy Chatterjee served as Director General, Hospital Services (Armed Forces) at Ministry of Defence, New Delhi.
Lt Gen Joy Chatterjee is son of late Major H M Chatterjee and Sumita Chatterjee of Nagpur. His brothers Maj Gen (retd) Chandan Chatterjee and Dr Anjan Chatterjee, former Additional Director General, Geological Survey of India, now Advocate, High Court, are permanent residents of Nagpur. His family comprises his wife Anjana is a subject matter expert, training content (Maths).
Their only daughter Janine, a graduate in Fashion Technology (Apparel Production) from NIFT, Mumbai, is pursuing her MBA from Symbiosis Institute of International Business, Pune. Lt Gen Joy Chatterjee is an alumnus of St Francis De'Sales Higher Secondary School, Hislop College, both in Nagpur, and Armed Forces Medical College, Pune. A Paediatric Anaesthetist, he has done Fellowship in Liver Transplant Anaesthesia from Queen Elizabeth Hospital, Birmingham, UK. He has been a pioneer member of the first liver transplant team of the Indian Armed Forces at this very Army Hospital (R&R), New Delhi, from 2007-11, which carried out over 100 successful liver transplants for patients including infants and children. He is a post-graduate teacher for MD (Anaesthesia) at Mumbai and Delhi Universities.