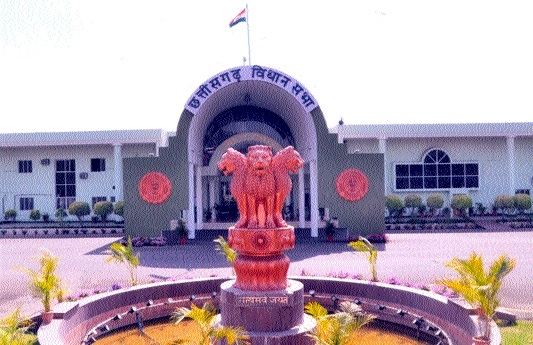 Monsoon Session of Seventh Session of the Fifth Chhattisgarh Legislative Assembly will commence from August 25 and will continue till August 28, 2020. A notification in this regard has been issued by Chandra Shekhar Gangrade, Principal Secretary, Chhattisgarh Legislative Assembly. During the Monsoon Session, financial as well as administrative matters will be taken up.
Talking to 'The Hitavada,' Principal Secretary C S Gangrade said very soon guidelines for the running of Monsoon Session will be finalised and accordingly further proceedings will be initiated. Regarding allowing media persons for coverage of Session proceedings, the Principal Secretary said everything would be finalised during the finalisation of House operation guidelines.
Meanwhile, as per the notification, there will be Question Hour on all four days along with works pertaining to financial and Government affairs. On the last day a time-slot of two and a half hours has been fixed for non-government affairs.
It would be interesting to see how the House functions amidst the threat of COVID-19 infection. Despite all restriction, the proceedings will be tumultuous as the opposition has several burning issues like sloppy handling of COVID-19 situation in the state, distribution of food grains to poor and needy people, conditions at quarantine centers, conditions at COVID Care Centres and COVID Hospitals, distribution of MSP arrears, etc, wherein, the opposition would try to corner the ruling Congress Government. At the same time the Treasury benches will also gear up for countering the opposition onslaught.
Meanwhile, Bharatiya Janata Party Legislative Party Leader Dhramlal Kaushik reacting to the notification said that the notification for Monsoon Session has been issued for a very limited period. The Budget Session was merely a formality and later the budget was passed in a day without appropriate discussions. At that time the opposition was assured that they will get ample time in the Monsoon Session.
Kaushik said accordingly we're hoping that at least ten meetings would be held during this Session because in-between the Budget session and the forthcoming Monsoon session several significant incidents have taken place in the state, which needs to be introduced during the Assembly session, so that people can get to know. If the Session is held for at least ten days then only these significant issues can be taken up. He further added that the Chhattisgarh Legislative Assembly has sufficient infrastructure and resources to ensure functioning of House while maintaining social distancing and other necessary protocols during the ongoing COVID-19 pandemic. Meanwhile, in yet another notification issued by the Chhattisgarh Legislative Assembly Secretariat, it asked its officials and employees to join duty from August 4, 2020 as the notification for Monsoon Session has been issued. Earlier, the operation of the Assembly Secretariat was suspended till August 6 due to Lockdown orders imposed in the capital.