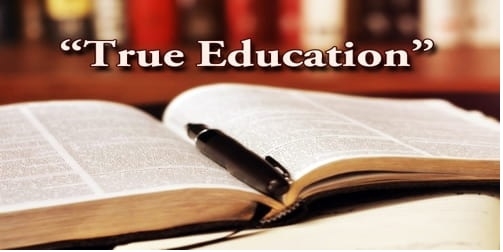 By Vijay phanshikar
At some point of our educational journey spanning 70 years, we dropped the basic thought that Swami Vivekananda gave: "Education is the manifestation of perfection within."
New Delhi, July 30 (Agencies): The new National Education Policy (NEP) 2020 approved by the Government aims to bring about two crore out-of-school children into educational mainstream. ...
THIS -- expanded universalisation of education -- appears to be the most critical aspect of the new National Education Policy 2020. Other details of the NEP may have had their own importance all right, but most of those appear more like administrative -- and even cosmetic -- in nature, obviously intended to remove roadblocks that the country has faced for the past three decades as the nation struggled to make education forward-moving in tune with changing times. The actual effect of those changes will be ready to be judged only after a few years when the nation comes to know about the practical hitches in their implementation, as had happened in the case of the previous Education Policy adopted by the then Government 34 years ago.
If the Government really succeeds in bringing into the educational mainstream as many as additional two crore children that did not join any school for whatever reasons, much good purpose would be served. For, that is the actual need of the nation. Each of our kids in each home must be able to attend school, no matter what. Each family must send all its children to school to a reasonable level. And if this purpose is fulfilled -- through the new National Education Policy-- then a great national and nationalistic purpose would be served, to some measure if not fully.
The NEP 2020 has suggested many a reform in school and college education. Most of those appear more of an administrative type. For example, the change from the 10+2+3 to 5+3+3+4, is based on some notion often cited as principle. Other reforms, too, have their own importance. But more important is that more kids get to go to school.
This is not to mount an uncalled for criticism of the NEP 2020. The purpose is to stress that if m ore kids can attend school until a reasonable level, the nation would be educated better. There is a talk of greater access to literacy and numeracy. This aspect, also, appears to be playing around with words. For, if the child is able to attend school without fail and without break, then he or she will become not just literate and numerate (as the terms go), but also will be able to educate self.
Fortunately, Prime Minister Mr. Narendra Modi understood the roadblocks in the path of universalisation of education. Countless lakhs of girls dropped out of school since their schools did not have appropriate washroom facilities, for example. So came the national campaign to build toilets not just in homes but also in schools. There are a lot of other angles, too, to this issue. If the nation wants all kids to attend school, its Government and the people will have to make massive readjustment in attitude towards education.
But let us take a look at what has been happening in the country for the past seven decades. All the talk about universalisation of education, of making education job-oriented, of study of the sciences, of study of the arts, of the study of humanities of a wider range, of literacy, of numeracy is not new to the nation. All policy documents for the past seventy years have talked of these with varying details. The new NEP 2020 also has done the same.
So, we will have to wait and see what good change it brings over time, before we praise NEP 2020 sky-high. Most unfortunately, we must admit that the nation never evolved a truly potent thought on education since Independence. We allowed our education to get locked in the nitty-gritties. We stopped granting permission to schools if they did not have play-ground, for example. Our schools are locked in such hassles.
A few years ago, we fell prey to the temptation of having digital boards in class-rooms, for another example. And the schools that did not have such boards were considered backward. What a huge nonsense! This is the actual issue; the rest are only details. For, at some point of our educational journey spanning 70 years, we dropped the basic thought that Swami Vivekananda gave: "Education is the manifestation of perfection within".
Let us be honest to ourselves to admit that we really forgot this core value, this basic thought, this simple but most accurate definition of what education should be. And this point can be proved through countless examples. In the passage of time, something worse, too, happened. Our education became urban-centric -- good school buildings, good modern facilities, good 'everything', and high fees. In that process, we lost the track of what actual education should be like, for we fell prey to what was fashionable, and not what was actually and accurately educational.
Again, this is not to denounce any policy as such. The effort here is to bring to the nation's notice the fundamental mistakes we have been making in our comprehension of what education should actually be. A simple definition of education is: Empowerment.
In our discourse, we only paid a lip service to the idea of empowerment. On the sly, we talked more of entitlement -- a sense each child is taught these days, thanks to our idea of 'good' schools. In that rush, we forgot that countless village schools, too, produced IAS officers, top-class medical doctors, scientists of world standards -- and also very good human beings.
To make this point, only a few names would be enough: Dr. Babasaheb Ambedkar, Dr. A.P.J. Abdul Kalam, Lal Bahadur Shastri. None of them went to 'good' schools. They went to great schools!