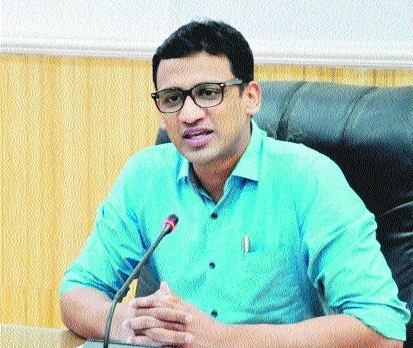 Shailesh Nawal addressing the media person.
Amravati Bureau Amravati,
"Permission for home quarantine will be provided if separate arrangements are available at the resident of suspected corona affected patient," said Shailesh Nawal, Amravati District Collector and president of District Disaster Management Authority here in a press conference. The home isolation process will be implemented from August 1. Addressing further Nawal said that Central Government has issued guidelines regarding home isolation. As per that patients from the district will be allowed for home isolation. The patients should have at least four rooms including two rooms with attached toilets.
So that patient will facilitate separate room along with bathroom for residing and treatment and also it would maintained the safety of his other family members. The process will be implemented in the district in a phased manner. As per process the patients will be made institutional quarantine for two days and later permission will be provided for home quarantine. It is mandatory to have an arrangement of care taker for the patient during home quarantine period. Administration is in talk with the Indian Medical Association for home care taker facilities, informed Nawal. Patients will have to be home quarantine for 17 days. He will have to make use of Arogya Setu App.
Apart from that one more App is being made for contact purpose of the patients. Permission of home quarantine will not be provided to aged, senior patients having severe diseases, cleared Nawal. Administration has also started helpline project for keeping in touch with the patients who got cured by taking treatment in institutional quarantine centers. "This helpline will also be used for contacting the home quarantine patients," said Nawal. He stated that weekend curfew will continue on every Saturdays and Sundays in the district. While decision on it will be taken after verifying the situation in first fortnight of August, said Nawal. Nawal also condemned the incident with girl that took place at Modi Hospital, Badnera and said that administration is taking efforts for strict action against the accused. "Strict actions will be taken to prevent such incidents," said Nawal.