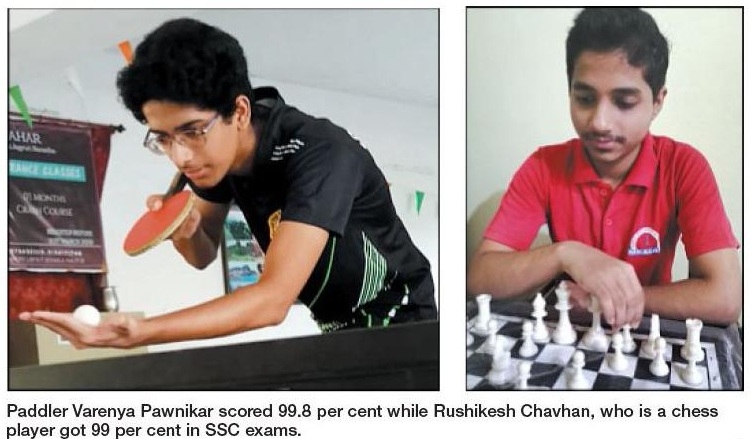 Sports Reporter ;
SOMALWAR High School and Junior College, Nikalas Branch's Varenya Pawnikar and Rushikesh Chavhan touched 99 per cent marks in the Maharashtra State Board of Secondary and Higher Secondary Education (SSC) examinations, the result of which were declared on Wednesday. Varenya, who secured 99.8 per cent marks, is a table tennis player while Rushikesh, who got 99 per cent, plays chess. There are as many as 29 meritorious sportspersons from the school.
The list is as under: Varenya Pawnikar (99.8, table tennis), Rushikesh Chavhan (99, chess), Snehal Choudhari (98, basketball), Saket Kalode (97.6, kabaddi), Ajinkya Mohite (97.4, badminton), Sharvari Yenprediwar (97.2, basketball), Arnav Pimple (95.6, table tennis), Sneha Sahasrabuddhe (95, badminton), Samrat Dhamgaye (95, basketball), Tanmay Dhobale (94.8, volleyball), Parth Diwale (94.6, chess), Swaraj Godbole (94.2 cricket), Mihir Pande (94.2, football), Atharva Joshi (94.2, football), Sujal Agrawal (93.6, chess), Yash Deshpande (93.6 kabaddi), Chaitanya Parwate (93.6, basketball), Shravani Bhrushundi (93.4, cricket), Radha Ghotkar (93, swimming), Rakshak Hingawe (92.8, kabaddi), Shashank Shrivastava (92.4, cricket), Chinmay Tekade (91.8; cricket, kabaddi), Kunal Galani (92, badminton), Darshan Butle (91.6, basketball), Aarsh Hadap (91, chess). Prathamesh Lohit (90.6, chess), Vedashree Jugade (90.6, basketball), Snehal Tripathi (90.6, cricket), Ajinkya Sahasrabuddhe (89, table tennis). Sneha Sahasrabuddhe is a member of Ajay Dayal Badminton Academy. RS MUNDLE ENGLISH SCHOOL AND JUNIOR COLLEGE The sportspersons of RS Mundle English School and Junior College also excelled in the Board examination.
Those sportspersons performing well in academics as well are: Shikha Bubhe (athletics, 92), Prabhav Puranik (athletics, 88.4), Shrirang Kelkar (karate, 69.8), Abhinav Gadgil (kho-kho, 90.8), Niharika Patel (athletics, 96.4), Radhika Patil (kho-kho, 94.8), Sanskruti Pounikar (kho-kho, 95.2), Shriya Dabhade (swimming, 93.2), Sakar Bhagwat (kho-kho, 96.4), Atharva Hardas (kho-kho, 91.8), Aryan Mankar (athletics, 83.8). PANDIT BACHHARAJ VYAS VIDYALAYA AND JUNIOR COLLEGE Archer Vaibhavi Balpande with 93.8 per cent topped the list of players from Pandit Bachharaj Vyas Vidyalaya and Junior College. List of other players who did well in the exams is as follows: Mahak Bante (89, softball), Bhumika Masram (67.2, athletics), Mitali Bhoyar (76.8, athletics), Harshal Chhatri (87, athletics), Bhuvneshwari Masram (68.8, athletics), Vedant Patankar (softball, 85.4), Ayush Zurmure (ball badminton, 67), Aditya Burdu (softball, 81,8), Harsh Paunikar (judo, 77.4), Durlabh Rewatkar (gymnastics, 75.6), Mahek Atrey (volleyball, 81), Shruti Bodhankar (volleyball, 78.6), Jayant Thakre (ball badminton, 83), Anushka Sahare (softball, 63.2). NAGPUR DISTRICT ATHLETICS ASSOCIATION Members of Nagpur District Athletics Association performed well in the SSC exams. Following athletes made school and the association proud: Savedana Mate (Future Athletics Club, 92), Vaishnavi Puri (Future, 85.2), Jaskiran Bamra (Future, 71), Sanika Mangar (BKCP School, Kanhan 92), Rudransh Marghate (BKCP, 84), 6 Rohit Yadav (BKCP, 74), Mohit Gupta (St Joseph School, Kamptee, 89), Sourabh Chouhan (BKCP, 71), Niharika Patel (96.4), Radhika Patil (RS Mundle, 94.8), Shriya Dabhade (93.2), Aryan Mankar (83.8), Devansh Telang (92.6), Shikha Dubey (92), Pranav Puranik (88.4), Shrirang Kelkar (69.8) (all RS Mundle School); Anushka Bodile (HTKBS Hingna, 68.2), Purvi Thakre (77.4), Saniya Dakhale (82), Sneha Malewar (93.6) (all Shakuntala Sport Foundation, Wanadongri); Sambodhi Jivkar (67.2), Gandharv Dhawade (69.2) (all Track Star Athletics Club); Association's Gurudeo Nagrale, Dr Sharad Suryawanshi, Dr Vibekanand Singh, Nagesh Sahare, Shekhar Suryawanshi, Ramchandra Wani, Prof Bunty Prasad Yadav, Adv Avinash Shahare and Archana Kottewar congratulated all the players.