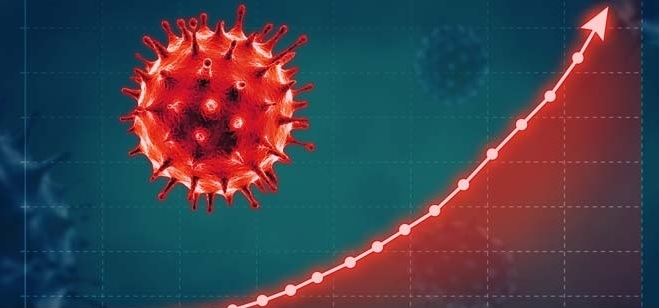 "In a major spike in COVID-19 cases, maximum 125 patients were detected while two patients died and 51 were discharged in 24 hours in the district, on Friday. Tally of patients increased to 1,304 and death toll reached to 29. The district has total number of 446 active cases and 1,613 suspects while total 829 patients were discharged after being cured from isolation wards till date," informed District Collector Bharat Yadav.
Collector Bharat Yadav informed that complete lockdown is not the solution in breaking COVID-19 chain as it needs strict implementation of protocol. Increasing number of groups of patients from families and institutions proved that most of the people are not following precautions and infecting their entire family, friends and co-workers. He informed that now the suspects will not be allowed for home quarantine and suspects will be institutionally quarantined or private quarantined at hotels. Total 19 hotels including Hotel Kalchuri have been identified for paid quarantine in the city. Total 544 samples were sent on Friday and total 29,775 samples were sent till date. A new containment zone was notified at Tulsi Mohalla, Ghamapur in Sheetlamai Ward Number-45 and total 29 number of containment zones existing in the district. Total 505 persons are into institutional quarantine, 710 persons are home quarantined and 44 COVID-19 patients are into home isolation. In the Roko Toko Abhiyan, total 204 persons were punished with financial penalty of Rs. 1.22 lakh for not wearing mask and not maintaining social distancing.
Two elderly patients succumb to deadly virus
Two persons in their sixties died of COVID-19 at NSCB Medical College Hospital on Friday. A 65-year-old resident of Adhartal and 69-year-old resident of Ghamapur were admitted at Medical Hospital for treatment. The first patient was admitted at COVID Positive ICU in a critical condition following complaints of fever and breathlessness since July 29. The medical history disclosed about the patient was suffering from high BP. He displayed symptoms of pneumonia and respiratory failure and was kept at ICU on high flow oxygen. His condition deteriorated and he passed away at 1 pm on Friday.
The second patient, a 69-year-old female of Ghamapur area was admitted at COVID suspect ward with the complaints of fever and breathlessness on July 29. She had health issues since seven days before admission. Initially, she was taken to two private hospitals, Jabalpur Hospital and Research Centre and City Hospital, where the hospital management refused to admit her. She was displaying the symptoms of pneumonia and respiratory failure and was already critical at the time of admission. The doctors kept her on high flow oxygen and sent her sample for corona test on July 30. She was diagnosed positive to COVID-19 on July 31. Unfortunately, despite all efforts made by the doctors' team from Medicine, Pulmonary Medicine and Anesthesia Department, the patient could not survive. She passed away at 6 am on Friday.
Another phase of 58 hrs' lockdown begins today
Collector Bharat Yadav has declared 58 hours' complete lockdown from July 31, 7 pm to August 3, 5 am in the district to check the spread of coronavirus infection amongst residents.
Pointing out the increasing cases of COVID-19, the Collector has released order to stop the relaxations under Unlock-2. During the lockdown, opening of market places and operation of two-wheelers and four-wheelers will be completely prohibited in the city. Essential services like medicine, health department, dairy, egg and meat shops will be exempted from the lockdown. Residents should co-operate the administration in breaking the chain of spreading Novel Corona Virus by staying at their homes.
Persons engaged in essential services like Jabalpur Municipal Corporation, Police, Revenue, Health, Electricity, Telecom, Home Guard, Disaster Management, Water Supply, Media, employees to be returning from night duty in Government Departments will be exempted from the lockdown but they need to keep their identity cards to avoid any kind of inconvenience. Similarly, vehicles engaged in services like health emergency service, ferrying passengers from railway stations will be exempted from lockdown but they need to ensure rail ticket with the passengers. Persons engaged in dairy, medical store, petrol pump, gas agency etc will be allowed to travel during the lockdown. In case of violating the prohibitory order, action will be taken against offenders under Sections 51 to 60 of Disaster Management Act 2005 and Section 188 of the IPC.