Rebel Congress leader Sachin Pilot meets Rahul, Priyanka amid hints of breakthrough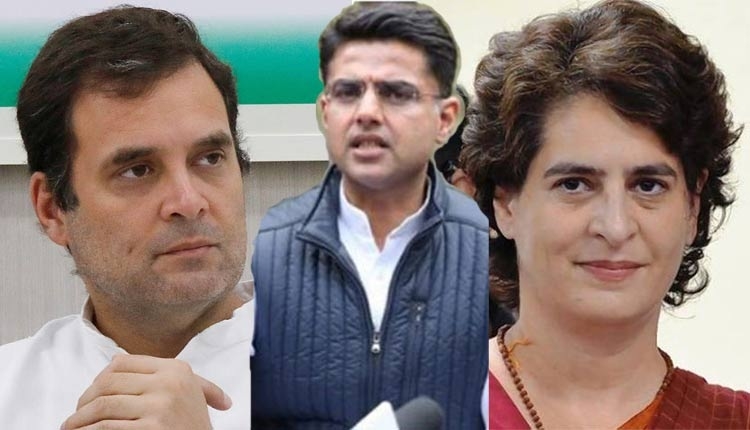 NEW DELHI ;
AHEAD of the crucial Rajasthan assembly session from August 14, rebel Congress leader Sachin Pilot on Monday met party leaders Rahul Gandhi and Priyanka Gandhi Vadra here, amidst indications of a possible breakthrough. Top Congress sources said the meeting took place a little after noon at Rahul Gandhi's residence and a "positive outcome" was expected. Sources also confirmed to PTI that Pilot has been in touch with the top Congress leadership and a formula for his return was being worked out.
According to sources closed to Pilot, the meeting lasted for about two hours and the Pilot camp was assured that all issues raised by them in Rajasthan will be resolved. Party sources said among the options, one possible agreement discussed during the meeting was favourable voting by Pilot and MLAs loyal to him in case of a trust vote during the upcoming Rajasthan assembly session. Pilot and 18 other MLAs have rebelled against the Ashok Gehlot-led Congress Government in Rajasthan, leading to Pilot's sacking as Deputy Chief Minister and state party chief. Meanwhile, Rajasthan Congress MLAs have demanded action against Sachin Pilot and other rebel MLAs at the Congress' Legislature Party meeting on Sunday, said sources. According to sources, State Congress in-charge Avinash Pandey has said that he will not advocate for rebels in front of party high command.
"MLAs in Sunday's Congress Legislature Party meeting demanded action against Sachin Pilot and other rebel MLAs. State Congress in-charge Avinash Pandey said he will not advocate for rebels in front of party high command," sources told ANI. SC to hear today pleas on merger of six BSP MLAs with Congress: THE Supreme Court on Monday said it would on Tuesday hear the petitions filed on the issue relating to merger of six BSP MLAs with the Congress in Rajasthan last year.
The apex court was hearing a plea filed by a BJP MLA who has challenged the Rajasthan High Court order which had refused to stay the functioning as Congress legislators of six BSP MLAs who after election to the assembly merged with the ruling party in the State. A bench headed by Justice Arun Mishra said that appeal filed by BJP MLA Madan Dilawar would be heard along with a separate plea filed by the six MLAs. In their plea, these six MLAs have requested the apex court to transfer to itself Dilawar's plea pending in the high court seeking their disqualification for allegedly violating the party whip.
Pilot to work in party's interests: Cong after rebel leader meets Rahul
NEW DELHI,
Aug 10 (PTI)
FORMER Rajasthan deputy Chief Minister Sachin Pilot will "work in the interest" of the Congress party and its Government in the State, the Congress said on Monday after a meeting between the rebel leader and former party chief Rahul Gandhi. The two leaders had a "frank, open and conclusive discussion", AICC General Secretary (Organisation) K C Venugopal said in a statement. "Following this meeting, Congress President Sonia Gandhi has decided that the AICC will constitute a three member committee to address the issues raised by Sachin Pilot and the aggrieved MLA and arrive at an appropriate resolution thereof," the statement said. "Sachin Pilot has committed to working in the interest of the Congress party and the Congress Government in Rajasthan," it added.
Sonia speaks to Gehlot, suspended MLA meets him: Congress President Sonia Gandhi on Monday spoke to Rajasthan Chief Minister Ashok Gehlot in an indication that efforts have accelerated to find an amicable solution to the political crisis faced by the party government in the state ahead of the start of the session of state assembly later this week.
The sources said that the conversation between Sonia Gandhi and Gehlot took place after meeting between former Deputy Chief Minister Sachin Pilot and party leader Rahul Gandhi. In another development, suspended party MLA Bhawar Lal Sharma and a loyalist of Pilot, met Gehlot. The sources said that Gehlot has called state Congress chief Govind Singh Dostara and other senior leaders for a meeting and after the call by Sonia Gandhi. They said Gehlot has agreed to decision of party high command for forming a committee. The sources also said that Pilot is pressing for two ministers of his camp to be inducted again in the cabinet. While Sharma met Gehlot today, he had met party leader KC Venugopal earlier.
The party had suspended Sharma and another MLA Vishvendra Singh from the primary membership of the party claiming that they were involved in the conspiracy to bring down the Gehlot government. An FIR had also been registered against Sharma by Rajasthan Special Operations Group (SOG) over a purported audiotape for allegedly hatching a plot to topple the government. Earlier in the day Pilot met Rahul Gandhi and Priyanka Gandhi Vadra.
The sources said that the meeting which took place at the residence of Wayanad MP around noon was successful and could lead to a possible turnaround. Pilot and his supporters were assured by the central Congress leadership that all their differences with Gehlot would be addressed and resolved by the party, they said.