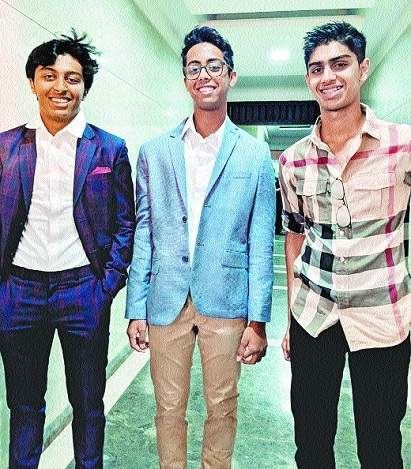 Vision Beyond creators Yashovardhan Kothari, Dev Kapashi and Dhruv Jhaveri.
By Farina Salim Quraishi :
Giving 'Make In India' a young twist, three talented city lads have come up with a gaming device for the visually impaired. All of 17 and wise beyond their years, the three besties, Yashovardhan Kothari, Dev Kapashi and Dhruv Jhaveri, have conceptualised and designed a portable and interactive gaming device, Vision Beyond. Determined to make fun and games available to even the specially-abled, the trio powered on by their love for gaming worked hard for two years to get the device up and running. Talking about the idea behind Vision Beyond, Yashovardhan says they always missed having their friend, Moksha Jhaveri -- Dhruv's brother, who is visually impaired during playtime, as he couldn't play some games with them.
Fascinated by the world of games and coding from an early age, the thoughtful trio decided to take things in their own hands. "Gaming increases one's interaction with the society and makes them feel connected. We were disappointed by the lack of gaming options available for the visually impaired in India. Until recently, only a handful of portable games were available, which were steeply priced. Most were too bulky and large to own at an individual level. We have always wanted to build a game of our own, one which can be played even by the visually challenged. So, we came up with Vision Beyond which is simple, portable and user-friendly," says the very articulate Yashovardhan about the wonderful initiative. Explaining the device's technical aspects, Dev Kapsashi says Vision Beyond is an audio interactive game, on the lines of Kaun Banega Crorepati, but is tailor-made for the specially-abled. "We all know Python, a coding language, that gave us strength to go ahead with our dream.
Coming up with an idea is easy, but executing it is another matter. We discovered it the hard way! We played a lot of games to zero in on one, sought out help from St Xavier's College, Mumbai, which has a dedicated department for the visually impaired and Curiosity Gym for the hardware. We learned a lot more about coding, gaming and electronics, all the while juggling our class XII board exams. Clearing one road road block at a time, we successfully designed Vision Beyond, using raspberry pie -- a specialised OS -- and CAT modelling software for the 3D model of the device," states Dev, who swears by Google Tutorials. Talking about the device, Dhruv says, Vision Beyond is for both sighted and the visually impaired. "It's a very compact tablet-sized device, just about 25 cms. Its quiz-based format, much like KBC, is ideal for all. It comes with 4 chips, one each for the four options in the question. All one needs to do is scan the chip they think is correct and voila! the game begins.
The simple gameplay ensurea that players are able to play the game on their own. After every level, it becomes harder and one has to score maximum points to win. It can double up as a multi-player or a single player game. Moreover, one doesn't need to know Braille to play it. We have an extensive question bank to ensure variety and engagement with Vision Beyond," Dhruv says.
"We have applied for a patent of the game and it's in process. Though the initial cost of the device is around Rs 3000 to Rs 4000, the price will go down when it goes into mass production. But more importantly, we want this game to reach as many kids as possible. There are also plans of donating it to organisations associated with the visually impaired. We have started a fundraiser on our page -- http://visionbeyond.org.in -- to this effect.
We have also tied up with National Association for the Blind (NAB India)for it. About 70% of the donations will go to them, rest will go towards making Vision Beyond available to all. We are working hard to ensure that Vision Beyond, made in India and made with love, reaches all our visually challenged friends," says Yashovardhan on a parting note.