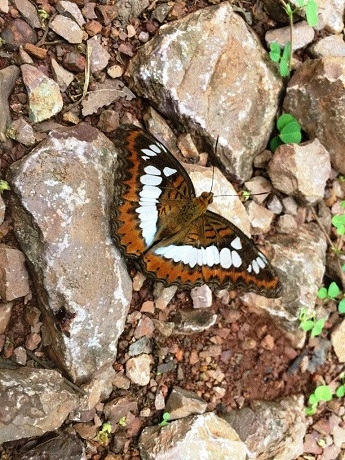 Staff Reporter :
RAIPUR,
Big Butterfly Month: India 2020 would be the first of its kind in the nation where butterfly experts, enthusiasts and organisations across India are joining hands for a month-long event of an All India Big Butterfly Count from September 14 to 20, 2020. All the participants would be encouraged to log in their submissions into well-established and preferred citizen science digital platforms: Butterflies of India, iNaturalist, and India Biodiversity Portal.
Chhattisgarh's Regional organiser JWWF informed that from September 5 to 20, 2020 various activities such as Big Butterfly Count, Butterfly Online Workshops, Butterfly Gardening Workshop and contests on Butterfly Photography, Butterfly Journaling, Butterfly Quiz, Butterfly Videography, and Butterfly Lifecycle, will be conducted. Butterfly Origami and webinars on butterflies for school and colleges will also be held on a virtual platform, in keeping with the current COVID scenario. The celebration would also include competitions and institutional outreach programs through virtual media educating and sensitising people about butterflies.
Such programmes will be conducted in all the major cities, e.g., Delhi, Mumbai, Bengaluru, Kolkata, Dehradun, Ahmadabad, Guwahati, Jammu, and Chennai, as well as reach out to protected areas around central India, Himalaya and the northeastern states of our country. Butterflies play a vital role in the ecosystem. They act as a food source for various other organisms such as spiders, wasps, dragonflies, birds and lizards. They also help in plant pollination and, importantly for us, act as excellent indicators of the health of the environment and ecosystems. So, studying butterflies is imperative to understand our surroundings.
The aim of the Big Butterfly Month: India 2020 is to bring the citizens of the country together under the umbrella of butterfly lovers to preserve the current habitat and to build new habitats for butterflies. In the process, diverse ecosystems may get improved as havens for our native biodiversity, which is very much needed.The popularity and scope of citizen science appear almost limitless. For citizens, the motivation is to contribute to science, public information and conservation with their strength in numbers, unmatched enthusiasm and a broad geographic spread. Scientists, on their part, offer a systematic way to collect information in a robust scientific framework and on a scale that would otherwise not be possible.Sohail Madan from Bombay Natural History Society (BNHS) says "The observation and submission of data on digital platforms are imperative in the age that we live in and it's high time we harness this power for conservation work in India.
With this specific idea in mind, we are organising the Big Butterfly Month, so that we may be able to bridge this gap between knowledge and implementation and provide the participants with a platform from where they can learn about butterflies, their behaviour, habitat and conservation approaches." The following outreach and educational activities have been planned for the Big Butterfly Month: Butterfly Quiz, Photography and Short Videography contest, Nature Journaling, Outreach to school, colleges and institutions through webinars and recordings, Education materials would be distributed through free-to-share media such as YouTube and state/regional level mentors guiding in the identification process. For the first time in India, more than 27programmes working in the field of Biodiversity and its conservation have come together towards the common goal of involving citizens in large scale monitoring programmes.