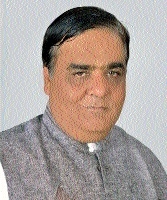 Srichand Sundrani
RAIPUR ;
By highlighting the negligence of people during Unlock, the Bharatiya Janata Party has alleged that Chief Minister Bhupesh Baghel is trying to put the onus of his Government's failure in containing the heavy spike in COVID-19 cases in State, on the common people. The BJP alleged that the spike in COVID-19 cases on the contrary is increasing due to Congress leaders, Ministers and public representatives who're moving in the public along with supporters keeping all rules and regulations at bay. Bharatiya Janata Party State Spokesperson Srichand Sundrani while expressing deep concern on heavy spike in COVID-19 cases, in a communique stated that the ruling Congress Government is negligent since the beginning and in the name of prevention and control of COVID-19 pandemic it cruelly playing with public health.
Terming the claims made by the State Government regarding control and prevention of COVID-19 infection are merely on papers, Sundrani asked whether the Chief Minister will take cognisance of the fact that Congress leaders and public representatives are moving in the open after giving samples for testing. He said lockdown enforced by the state government is a complete failure as it is not finding any way as to how it could control the pandemic. Leaving complete responsibility of controlling the pandemic on bureaucrats, the Government is trying to hide its failures.
On the other hand the bureaucrats are taking impractical decisions due to which anarchy is prevailing in Chhattisgarh. Sundrani further added that people are crowding in markets out of panic which arose due to irrelevant decisions taken by the district administration. These are some reasons as to why infection is spreading and how can the ruling Congress Government shelve its responsibility from it. Due to massive shortage of testing laboratories in the state, samples are piling in testing labs and subsequently the results are delayed.
On top of that, negligence and irregularities are prevailing in quarantine and Covid Care Centres due to which patients who have been kept there are subjected to torture. Sundrani alleged that at the grass-roots level, the samples are not being collected which is again an issue of major concern. Sundrani added that people are crowding at ration shops as these are being opened for a very limited period and also at irrelevant timings. Since the government as well as the district administration is suffering from second thoughts, it is creating panic situations.