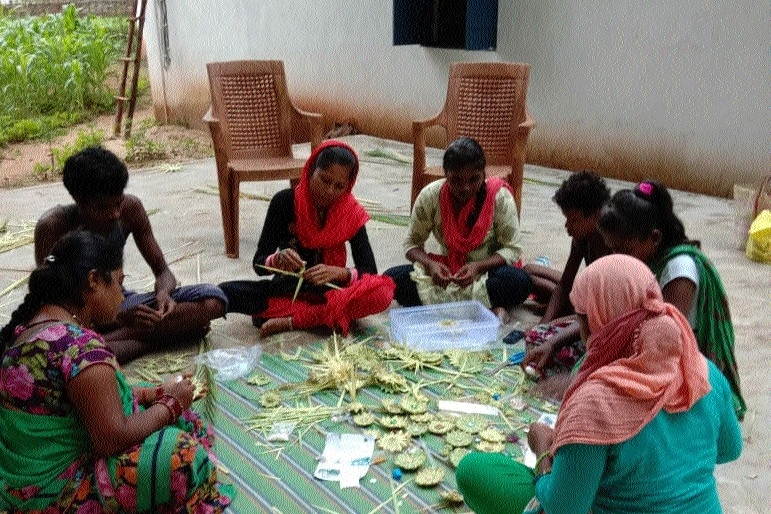 Members of Jhara Mata Nandpuram Krishak Mahila Sangathan busy in making Green rakhis from palm leaves. (R) Green rakhis prepared from palm leaves.
The Hitavada State Bureau :
RAIPUR/DANTEWADA
In the time of crisis emerging out of Novel Coronavirus (COVID-19), a Krishak Mahila Sangathan at a village in insurgency-hit Dantewada district of Chhattisgarh is associating villagers with employment-oriented activities of making beautifully crafted 'Green Rakhis' for this Rakshabandhan. Motivated and guided by Krishi Vigyan Kendra (KVK) Dantewada, the members of Jhara Mata Nandpuram Krishak Mahila Sangathan at village Jhodiyabadam are making Green Rakhis by using palm leaves, said Principal Scientist of the KVK Dr Narayan Sahu.
"So far, the sangathan has sold Green Rakhis to the tune of around Rs 22000 and the figure will definitely increase before Raksha Bandhan. By folding leaves of palm trees in different shapes and sizes, the Sangathan has prepared Green Rakhis that are ranged between Rs 30 and Rs 50," said Dr Sahu. Besides soft palm leaves, the KVK has provided decorative items to the Sangathan, added Dr Sahu.
Dr Sahu further informed that impressed by the initiative, the administration has provided space to Jhara Mata Nandpuram Krishak Mahila Sangathan in the collectorate campus for erecting a stall to sell Green Rakhis. Due to high demand, the rakhis were purchased from the spot of manufacturing.